Gurkensalat: authentic German creamy cucumber salad

Gurkin: Cucumber
Salat: Salad
Cucumber salad (with creamy dill dressing)
This one's another sappy one- this is my second attempt at this recipe. I always hated my first attempt and meant to refine it, but that fell down the list of priorities and stayed there. For a couple SEVEN years
I don't remember Oma's cucumber salad recipe as vividly as the others I've done in the past. So my first attempt was just a modified recipe from the internet and some lazy ass thick chopping. Look at this shit, look how thick those slices are. Did someone drop their vegetable tray and think nobody would notice?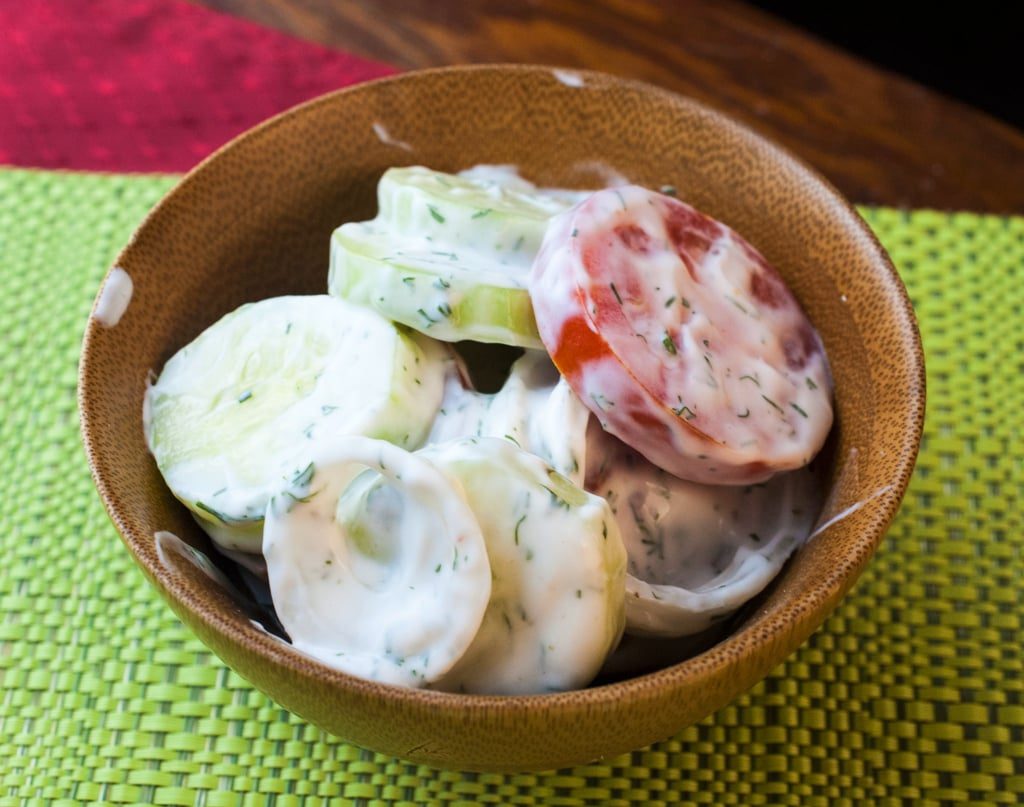 Also that bowl is trash, I can't remember the last time I used it in a shoot. 2/10
Now look at us. Ya boy made a radish rose!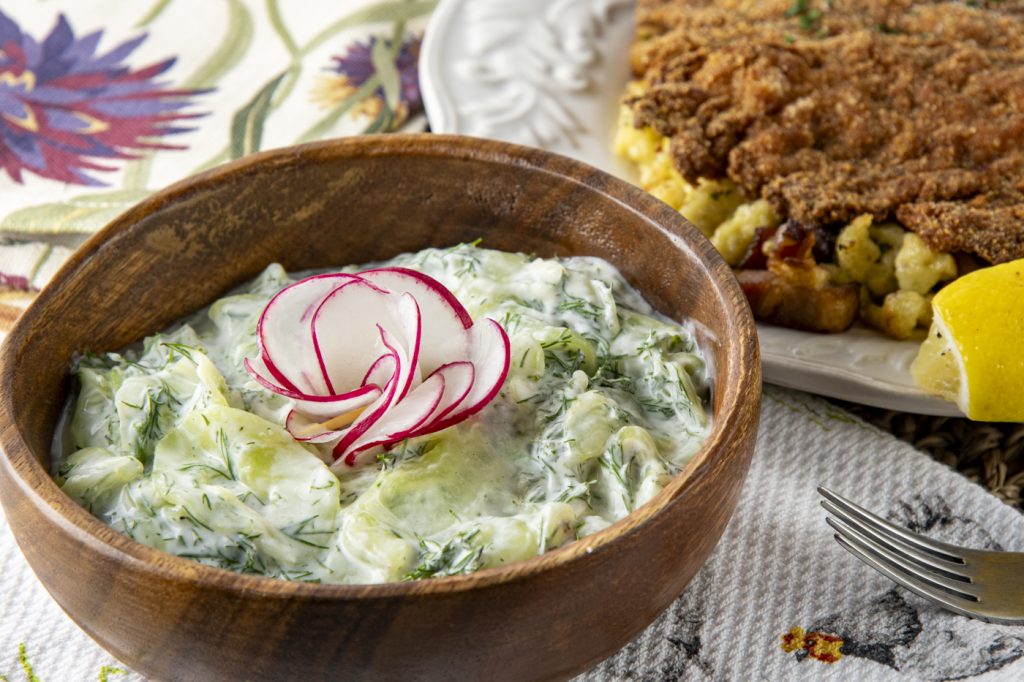 And got a nicer bowl.
Oh yeah, getting back to the story I had gurkensalat at a German restaurant recently and had a realization- this is just Oma dressing and sour cream!
I tinkered for a bit with the ratios of the dressing and the sour cream. In the seven years since that other recipe I acquired (and promptly cut my finger on) a mandoline. So we have thin, consistent cucumber slices now.
Gurkensalat, also known as Cucumber Salad, is a popular dish in various cultures, particularly in Germany and other parts of Europe. Its history can be traced back to ancient times when cucumbers were cultivated and consumed for their refreshing and hydrating qualities. Here is a brief overview of the history of Gurkensalat:
Ancient Origins: Cucumbers are believed to have originated in India around 4,000 years ago and were cultivated by ancient civilizations like the Egyptians and Romans. These early cucumbers were quite different from the modern varieties, being smaller and often more bitter.
Migration to Europe: Cucumbers made their way to Europe through trade routes and conquests. The Romans were known to have grown cucumbers and even used them for various culinary purposes, including pickling. However, the cucumbers used in ancient Rome were often more like gherkins than the cucumbers we know today.
Medieval Europe: Cucumbers continued to be cultivated in Europe during the Middle Ages, and they gradually evolved into the larger, milder-tasting cucumbers that we are familiar with today. Cucumbers were used in a variety of dishes during this period, including salads.
Emergence of Gurkensalat: The specific dish known as Gurkensalat, or cucumber salad, likely developed in Germany and other parts of Central Europe. Cucumber salads gained popularity in the 18th and 19th centuries as a refreshing Side Dish, particularly during the warm summer months.
Variations: Over time, various regional variations of Gurkensalat emerged. In Germany, for example, you can find variations of cucumber Salad made with different dressings, including vinegar and oil, sour cream, or yogurt. Ingredients like dill, onions, and sometimes tomatoes are often added for flavor.
International Influence: Cucumber salads, inspired by Gurkensalat, have become popular in many other countries as well. In the United States, for instance, cucumber salads are often made with a creamy dressing and may include ingredients like red onions or bell peppers.
Modern Variations: Today, Gurkensalat remains a popular and versatile dish that can be found in restaurants and households across Europe and beyond. It is enjoyed as a refreshing and light accompaniment to a wide range of meals.
The history of Gurkensalat reflects the long-standing culinary tradition of using cucumbers in various dishes, and it continues to be a favorite salad option for those seeking a simple and refreshing side dish.
What are some dishes to serve with cucumber salad?
Cucumber salad is a versatile side dish that pairs well with a variety of Main courses, particularly those that benefit from a refreshing and crisp contrast. Here are some dishes to serve with cucumber salad:
Remember that cucumber salad can be customized with different dressings and ingredients to match the flavors of your Main Dish. Its versatility makes it a go-to side for a wide range of meals and occasions.
Cucumber salad variations are popular in many countries and cultures around the world.
These are just a few examples of the many cucumber salads enjoyed worldwide. Each culture adds its own unique flavors and ingredients to create a cucumber salad that complements their traditional dishes.
The Greek version of cucumber salad is called "tzatziki."

Quick Trivia!
Gurkensalat
Ingredients
Cucumbers
600-700

g

cucumber

I used field cucumbers, peeled, sliced very thin

salt
Dressing
3

tbsp

vinegar

white

1

tbsp

water

1

tsp

dijon mustard

1

tsp

sugar

pepper

small pinch

1/2

cup

sour cream

25-30

g

dill

fresh, chopped 1/4"
Instructions
Layer the bottom of a flat bottom sieve or message rack with cucumbers, sprinkle lightly with salt, add a layer and repeat.

Optionally add weight on top a large pan, chef presses, etc

Allow cucumber to sit for 10 minutes. The salt will draw out some water so make sure there's something to catch that underneath

Squeeze the cucumbers up in a cheese cloth or clean kitchen towel, draining them of most of their juices. You want them to keep some juices though, they'll thin the dressing some and infuse it with more cucumber-y goodness

While the cucumbers are draining whisk together all the dressing ingredients

Add the drained cucumbers to a container, add the dressing and toss vigorously to combine.

Refrigerate at least 30-60mins, but ideally over night.

Serve garnished with a radish rose if you're a fancy boy
Nutrition
Calories:
113
kcal
|
Carbohydrates:
8
g
|
Protein:
2
g
|
Fat:
8
g
|
Saturated Fat:
4
g
|
Polyunsaturated Fat:
0.3
g
|
Monounsaturated Fat:
2
g
|
Cholesterol:
23
mg
|
Sodium:
40
mg
|
Potassium:
384
mg
|
Fiber:
2
g
|
Sugar:
5
g
|
Vitamin A:
1027
IU
|
Vitamin C:
14
mg
|
Calcium:
86
mg
|
Iron:
1
mg