Schnitzel Dinner

Classic German comfort food. With a Czech sauce. See Zie Germans are coming! (To Dinner): Bratwurst, sauerkraut and kasespatzle for how to make the spatzle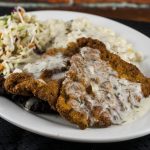 Print Recipe
Schnitzel and Spaetzle with Dill Sauce and Coleslaw
Classic German comfort food. With a Czech sauce. See http://www.cucumbertown.com/zie-germans-are-coming-to-recipe-dish for how to make the spatzle
Ingredients
The Schnitzels
1

lb

Pork Loin

trimmed, sliced into 1/2" slices

2

cups

flour

2

large

egg

3

cups

bread crumbs

1/4

tsp

salt

1/4

tsp

pepper

1/4

cup

milk

2

cups

vegetable oil

for frying
The Dill Sauce
1/2 - 3/4

cups

fresh dill

chopped

2

tbs

butter

or margaraine

1

cup

sour cream

2

cups

chicken broth

1

small

onion

diced fine

2

tbsp

flour

1

tbsp

lemon juice
The Coleslaw
1

bag

coleslaw

3

tbsp

cider vinegar

1 1/2

tbsp

dijon mustard

1

tbsp

sugar

1/4

tsp

pepper

1/4

tsp

salt
Instructions
The Coleslaw
Combine everything but the coleslaw in a mixing bowl and whisk vigorously. Place the coleslaw mix in a medium mixing bowl, pour over the dressing, cover with plastic wrap and shake to coat. Refrigerate at least an hour.
The Sauce
Melt the butter in a medium sauce pan. Add the onions and saute til translucent, about 3 minutes.

Slowly whisk in the flour to create a roux

Add the chicken stock, lemon juice and dill. Continue whisking till combined.

Simmer on medium low for 10 minutes, remove from heat and whisk in the sour cream. Cover and keep warm on low, stirring occasionally while you make the schnitzel.
The Schnitzel
Fill a 10" skillet with the oil and heat on medium high. The oil should be hot, but not smoking, or close to smoking.

Place a pork slice between 2 pieces of plastic wrap and hammer to 1/8" thin with the smooth side of a mallet. Repeat for all slices.

Combine the eggs and milk in a shallow bowl and whisk with a fork. Add the flour to another shallow bowl, and the breadcrumbs to another.

Dredge a piece of pork through the egg wash on both sides, then through the flour, then the egg wash again and finally the breadcrumbs.

Gently lay the breaded pork into the oil and fry til golden brown- about 1-2 minutes per side. Flip and repeat. Drain and remove to a plate. Repeat with the rest of the pork.