Hobo Chicken Chili with Corn Bread

From S06E01 of The Simpsons "Bart of Darkness"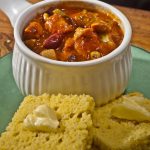 Print Recipe
Hobo Chicken Chili with Corn Bread
Ingredients
For The Chili
3

tsps

paprika

smoky

1

tsp

onion

powder

1

tsp

garlic

powder

1

tsp

white pepper

1

tsp

black pepper

1

tsp

cayenne pepper

1

tsp

oregano

1

tsp

thyme

1/2

tsp

celery seed

1

tsp

kosher salt

3

chicken breast

1

green bell pepper

cut into pieces

3

jalapeno pepper

, seeded

1

onion

large

1

can

corn

kernels

1

can

kidney beans

1 28

oz

tomato

crushed cans

1

tbsp

chopped garlic

heaping

salt
For The Corn Bread
1 1/2

cups

corn

meal

2 1/2

cups

milk

skim

2

cups

flour

1

tbsp

baking powder

1

tsp

salt

2/3

cup

sugar

2

egg

1/2

cup

vegetable oil
Instructions
Preheat your oven to 350F.

Thoroughly mix all bread ingredients together in a large mixing bowl, then poor into a greased 9x13" baking dish. Bake in oven at 350F for 45 minutes or until a knife inserted into the center comes out clean.

Cut the peppers, onion and chicken into 1" pieces. Try to keep the chicken thin instead of cubed.

Heat oil in a large pot on medium then add chicken and spices. Stir to fully coat then cook til no longer pink- 3-5 minutes. Remove chicken with a slotted spoon to keep juices, set chicken aside.

Add onions and garlic to pot, season with salt and saute til onions begin to soften. Then add jalapenos and continue to saute another couple minutes, then add green peppers and saute another 2-3 minutes, stirring frequently.

Add beer, tomatoes, corn and bean and bring to a boil. Stir in chicken and once chili returns to a boil reduce heat to medium low and allow to simmer un covered for 20-30 minutes.

Cut Corn bread into 12 pieces, serve chili with a piece of corn bread halved and spread with butter.