Chocolate Chipotle Ribs, Southern Fried Buttermilk Chicken and Collard Greens with Bacon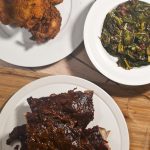 Print Recipe
Chocolate Chipotle Ribs, Southern Fried Buttermilk Chicken and Collard Greens with Bacon
Chocolate Chipotle Ribs, Southern Fried Buttermilk Chicken and Collard Greens with Bacon Recipe by Raymond Selzer
Ingredients
For Ribs
5

tbsps

brown sugar

2

tbsps

chili powder

4 - 6

chicken

thighs bone in , skin on

2

tbsps

salt

1

tbsp

pepper

1

tsp

garlic

powder

1

tsp

onion

powder

5 - 8

lbs

pork

back ribs

1

onion

finely chopped

2

chipotle peppers adobo sauce

in finely chopped

olive oil

1/2

cup

beef broth

1/2

cup

ketchup

2

tbsps

lime juice

1

tbsp

worcestershire sauce

1

oz

unsweetened chocolate

finely chopped
For Chicken
2

cups

buttermilk

1

tbsp

dijon mustard

1

tsp

salt

1

tsp

black pepper

1

tsp

cayenne pepper

4 - 6

chicken

thighs bone in , skin on

2

cups

flour

1

tbsp

garlic

powder

1

tbsp

onion

powder

vegetable oil

for frying
For Collard Greens
3 2

inchs

bacon

slices cut into pieces

1

onion

large chopped

2

tbsps

chopped garlic

1

tsp

salt

3

cups

beef broth

1

tsp

red pepper

flakes

1

lb

collard greens

cut into 2 inch pieces
Instructions
Preheat your oven to 300F

In a medium mixing bowl whisk together buttermilk, mustard, 1 tsp salt, 1 tsp pepper. Put chicken in a ziplock bag then pour in buttermilk mixture. Press the air out of the bag, seal it and refridgerate at least 3 hours.

In a medium mixing bowl mix together 4 tbsp brown sugar, 2 tbsp chili powder, 2 tbsp cocoa powder, 2 tbsp salt, 1 tsp pepper, 1 tsp garlic powder, 1 tsp onion powder. Rub the mixture all over ribs, making sure to press it into the meat well.

Cover ribs loosely with tinfoil and cook at 300F for 2 hours 30 minutes, remove from oven and brush on sauce, then cook another 15 minutes and brush on more sauce and cook another 15 minutes. Brush on more sauce and allow to rest, covered.

To make the rib sauce saute the 1 chopped onion and the chipotle peppers until onions are soft and pepper is extremely fragrant. Add 1/2 cup beef broth, 1/2 cup ketchup, 2 tbsp lime juice, 1 tbsp brown sugar, 1 tbsp worcestershire sauce. Mix well and allow to simmer 5 minutes or so til it thickens a little. Remove from heat and stir in chocolate.

Deep fry the chicken at 350F for 10 minutes. Time it appropriately based on how many batches you need to do so the chicken has been cooling 5 minutes or so when the ribs come out of the oven

To make Collard greens fry bacon pieces in a large pan for 2 minutes. Add 1 chopped onion and continue to saute til onion begins to soften. Add garlic and saute til fragrant, add collard greens and fry til they begin to wilt. Pour in 3 cups of beef broth and simmer 45 minutes or until greens are tender. Drain any excess liquid before serving.