Oven Roasted Chinese Five Spice Chicken with Banh Mi Style Slaw on Steamed Buns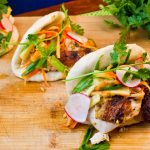 Print Recipe
Oven Roasted Chinese Five Spice Chicken with Banh Mi Style Slaw on Steamed Buns
Ingredients
For the Chicken
1 3 - 5

lb

chicken

3

tbsps

vegetable oil

2

tbsps

soy sauce

3

tbsps

ginger

minced

2

tbsps

chopped garlic

2

tbsps

sugar

2

tsps

curry powder

medium

1

tsp

chinese five-spice powder

Chinese

1/2

tbsp

salt

4

star anise

whole , toasted and finely ground
For The Slaw
3/4

cup

carrot

shredded

3/4

cup

cucumber

thinly sliced

1/2

cup

radish

thinly sliced

3

tbsps

rice wine vinegar

2

tbsps

sugar

1/4

tsp

salt

1/2 2 - 3

cup

green onion

" long finely sliced
For The Buns
1

cup

water

warm

1 1/2

tsps

yeast

instant

1

tbsp

vegetable oil

3

tbsps

sugar

3

cups

all purpose flour

1/4

tsp

salt

1/2

baking powder
Instructions
For The Chicken: Mix together all the chicken marinade ingredients in a medium bowl.

Butterfly the chicken and lay it skin side up, then poke it all over with a fork. Place the chicken skin side up in a ziplock bag

pour the marinade into the bag, press out all the air and seal it. Massage the chicken til it is completely and evenly covered in the marinade. Put it in the fridge skin side up and marinade for 4 hours, periodically massaging it to re-distribute the marinade.

When the chicken has finished marinating, take it out of the bag and lay it skin side up in a cooking pan, empty out any extra marinade and spread it over the chicken. Preheat the oven to 350F, then roast on the bottom shelf for 1 hour 10 minutes

Once the chicken is out of the oven, cover it with tin foil and allow it to rest for 10 minutes.

For The Slaw: Place all the ingredients in a medium sized mixing bowl and toss to thoroughly coat the vegetables in the dressing.

Cover the bowl with plastic wrap and refrigerate at least 30 minutes.

For The Buns: In a large mixing bowl mix together the warm water, sugar and yeast. Cover the bowl with a tea towl and let sit for 5 minutes or so til it begins to bubble.

Add the flour, baking powder and salt in that order. Mix it all together with a wooden spoon, then knead and roll into a smooth dough ball for 5 minutes.

Cover the bowl with the tea towel and set aside in a warm dark place for 2 hours til the dough ball has more than doubled in size.

On a lightly floured surface roll out the dough into a log, cut it in half, and cut each half into 7 equal pieces. Roll each piece into a ball.

Press out each dough ball into a 4" circle, then fold in half into a half moon shape.

Place all the buns on the wax paper pieces and lay in bamboo steamers

Bring a pot of 2" of water to a boil, place the steamers on the pot of water and steam for 10 minutes.

Carve the chicken and roughly chop up the meat, at a handful of meat to each bun and top with lots of slaw.