Dinner at Oma's
Everyone has a "family spaghetti sauce recipe" here's my Oma's. Also included is her dill vinaigrette dressing which my cousins and I always just called "Oma dressing"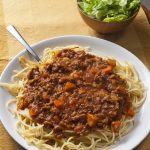 Print Recipe
Dinner at Oma's
Everyone has a "family spaghetti sauce recipe" here's my Oma's. Also included is her dill vinaigrette dressing which my cousins and I always just called "Oma dressing"
Ingredients
For The Sauce
1

sauce

bottle original ragu

700

g

ground beef

1

onion

large , chopped

4

tomatoes

vine ripened , diced medium

2

carrots

large diced (optional)

1 1/2

tsps

sugar

3

beef bouillon cubes

vegetable oil

spaghetti spaghettini

or ni
For The Salad
3/4

iceberg lettuce

head , torn

1

onion

small , diced

6

tbsps

white vinegar

1 1/2

tbsps

water

1 1/2

tsps

sugar

salt

pepper

1/8

tsp

mustard

powder

1 1/2

tbsps

dill

fresh minced
Instructions
For The Sauceheat oil on medium in a large sauce pot, add ground beef, break apart and season with pepper. Once some liquid forms add a bouillon cube. Continue to brown thoroughly.

Add onions and another bouillon cube, stir til cube has disintegrated.

Stir in tomatoes, carrots (if your're using them) the last bouillon cube and the sugar. Cover and allow to simmer for 8-10 minutes until the tomatoes have broken down and the amount of liquid in the pot has increased.

Stir in the ragu sauce. Cover and bring to a boil, then reduce heat to a low simmer and allow to simmer, covered for 20 minutes, stirring occasionally.

Set your pasta water to boil and cook to package directions.

For The Salad DressingIn a medium mixing bowl combine all ingredients but the lettuce.

Put lettuce in a large salad bowl, toss with dressing just before serving.