Homemade Crunch Wrap and Fire Sauce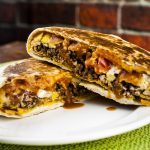 Print Recipe
Homemade Crunch Wrap and Fire Sauce
Ingredients
Fire Sauce
6

oz

tomato paste

(one small can)

3

cups

water

3

tbsp

vinegar

2

large

chipotle peppers adobo sauce

chopped fine, reserve extra adobo sauce to taste

1

tbsp

chili powder

or if you have it, chipotle powder for a smoky kick

1

tbsp

red pepper flakes

2

tsp

salt

1-2

tbsp

corn starch

1

tsp

cayenne pepper

1

tsp

sugar

1

tbsp

onion powder

1

tsp

garlic powder
Taco Seasoning
1

tbsp

chili powder

1/4

tsp

garlic powder

1/4

tsp

onion powder

1/4

tsp

red pepper flakes

1/4

tsp

oregano

1 1/2

tsp

cumin

1

tsp

salt

1

tsp

pepper
Crunch Wrap
1

lb

ground beef

3

12"

tortilla

6

tostada shells

1

cup

sour cream

2

cups

shredded lettuce

2

roma tomato

diced

3

cups

cheddar cheese

shredded

3/4

cup

water
Instructions
Combine all the Taco seasoning spices in a bowl and set aside

Combine All the fire sauce ingredients except the corn starch in a sauce pot. Bring to a boil on high, then reduce the heat to medium and simmer uncovered for 20 minutes. Whisk occasionally.

Blend the fire sauce with an emulsion blender til smooth. Adjust flavour to taste with more adobo sauce as desired

Combine the corn starch with 2 tbsp water then whisk the mixture into the sauce. Allow to cool then transfer to a sauce bottle.

Cook the ground beef til brown, drain and return to pan.

Add the taco seasoning to the meat in the pan, cover with 3/4 cups water and stir to combine. Bring the heat to high until liquid simmers, reduce to medium and simmer another 5-8 minutes til liquid is almost gone.

To build a crunch wrap lay a tortilla down on a flat surface and add 1/2 cup cheese to cover the area of a tostada. Drizzle on some fire sauce then press down a tostada. Coat the top of the tostada with sour cream, add tomato, lettuce and meat and another 1/2 cup cheese. Drizzle with fire sauce and add another tostata.

Fold the cruch wrap by folding a side of the tortilla into the middle, turn the wrap and repeat.

Brush a large pan with a little vegetable oil. Heat the pan on high til it begins to smoke, then reduce the heat to medium high. Place a wrap in the pan open side down for about 30 seconds then flip it and repeat.