7 Layer Burrito

One of my favourite youtubers has a running joke about Taco Bell getting rid of the 7 layer burrito. I bought a panini press on a whim. The rest just all made sense!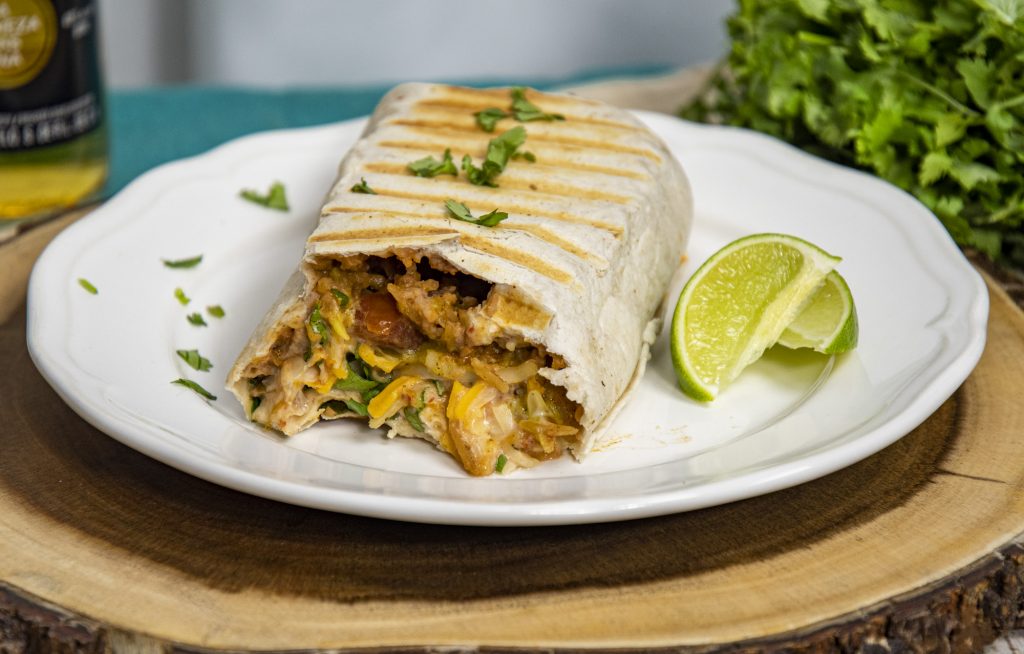 This is very much a "good enough" recipe. Everything is ready made except the rice, and if you have the energy, The Fire Sauce
The Sordid Tale of the Seven Layer Burrito Taco Bell and its Controversial Demise
Taco Bell's 7 Layer Burrito Mysteriously Disappeared from Menus
The story of the 7 Layer Burrito is a long and complicated one. It starts with a man named Glen Bell, who founded Taco Bell in 1962. Glen Bell had an idea for a Mexican-style restaurant and he wanted to serve Mexican food that was fast and affordable.
Glen Bell got his start selling hot dogs from a push cart in Los Angeles but soon realized that the demand for Mexican food would be greater than for hot dogs. He opened up Taco Tia, which was one of the first restaurants to sell tacos in California.
Taco Tia became successful after only two years of operation, but Glen Bell still wanted to create something new.
One day Glen Bell made what he called "the world's largest Burrito." This burrito was so large that it could not fit on any plate or tray, so Glen created what we know as the Taco shell by wrapping it with aluminum foil. The combination of this large burrito wrapped in foil led to the Mexican-American War.

Quick Trivia!
The story of the 7 layer burrito at Taco Bell is one that's not all that different from the rest. It was introduced in 1995 and became an instant favorite with customers. But in 2016, it was discontinued for reasons unknown to us.
The Story Behind Taco Bell's 7 Layer Burrito and What Happened to It
A Brief History of the Taco Bell Burrito
The Taco Bell Burrito is one of the most iconic menu items in the world. Invented in 1962, the burrito has become a cultural icon and has been sold at Taco Bell restaurants for over 50 years.
The 7 Layer Burrito was introduced to the menu in 1995 and was discontinued in 2005. The story behind this burrito is that it was created by a Taco Bell employee who had just returned from a trip to Mexico and wanted to recreate some of his favorite dishes.
What are the Ingredients of a 7 Layer Burrito?
The 7 Layer Burrito consisted of seasoned beef, refried beans, cheese sauce, sour cream, guacamole, lettuce, tomatoes and salsa wrapped up in a flour tortilla. It also came with two layers of tortilla chips on top for added crunch!
The 7 layer burrito was created in 1992 by Taco Bell employee John Delligatti. It is made with a flour tortilla, beans, cheese, tomato sauce, sour cream and guacamole wrapped up in a black paper wrapper.
Why was the Taco Bell Seven Layer Burrito Discontinued?
In 2005, the CEO recalls having an in-depth meeting with the heads of marketing, where they discussed the continued success of their flagship product, the Burrito. It was then that they gathered to decide if the Burrito had reached peak popularity, and whether it was time to put it to rest as a limited-time offer for a few more years before going into full production.
However, as Glen Bell contemplated amongst his team members on what to do next with the Burrito, one burrito was seen out of the corner of his eye. The creature was standing on top of one of their desks, waving its arms around. Another colleague witnessed it too and screamed in horror while uttering an expletive-laden phrase that shocked everyone's ears.
The burrito then morphed into what looked like a human being and began speaking in English. It claimed to want to destroy all life on earth, or at least many lives by causing infectious diseases. The creature called itself "7 Layer Burrito".
The burrito dimension is a mexican-themed world where all food is made of tortillas and the people are made of burritos. The people are all taco shaped and have sticks for hands.

Quick Trivia!
There are no forks, though each person has an egg they hold like a lollipop. The universe has been at peace since the 7 layer burrito was banished.
One day a group of humans accidentally discovered the burrito dimension while touring a theme park in Mexico as part of their study abroad program. The group bonded with the 7 layer burrito and brought it back to their universe, which caused havoc with their environment.
The humans realized they had to send the 7 layer back to the burrito dimension to save their world, but they were too attached to it. They took it on a tour across different locations trying to find someone else willing to send it back to its home dimension, but ultimately failed because no one was willing or able.
The 7 layer burrito is a viscous, cacophonous beast that steals souls, engulfs countries, and destroys worlds. It is a grisly pestilence of the burrito world.

Quick Tip!
In 2005, famed restaurateur Glen Bell was forced to banish the 7 layer burrito back to the burrito dimension. Burritos are not native to our plane of existence. Burritos are an invasive species from an alternate reality.
It was a tough decision for Glen Bell, but he had no choice. The lives of billions of humans depended on it. The fate of the Universe itself hung in the balance.
The 7-Layer Burrito Compendium
What are the layers of a 7-layer burrito?
The 7-layer burrito is a Mexican dish that consists of a flour tortilla wrapped into a cylinder and filled with various ingredients.
The first layer is the tortilla, which can be made from corn or wheat flour. The second layer is the meat, which can be beef, pork, chicken, or other meat. The third layer is the beans, which can be refried beans or pinto beans. The fourth layer is cheese that melts during cooking. The fifth layer consists of guacamole and salsa. The sixth layer consists of rice and the seventh layer consists of sour cream and lettuce.
The 7-layer burrito is a type of burrito with seven ingredients, usually evenly distributed.
A 7-layer burrito typically includes the following layers:
the tortilla
beans and rice
cheese
salsa or guacamole
sour cream or yogurt
meat (chicken, beef, pork, etc.) or other protein.
Ingredients
The Rice
1/2

cup

rice

uncooked, long grain

1

tbsp

vegetable oil

for frying

1/2

tsp

salt

1/2

tsp

garlic powder

1/4

tsp

cumin

1/2

small

onion

minced fine

1/4

cup

crushed tomatoes

1

cup

chicken broth

1

tsp

mexican oregano

dried, or regular dried
The Rest
3

12 inch

Tortilla

3/4

cup

refried beans

3/4

cup

guacamole

3/4

cup

chunky salsa

drained

3/4

cup

sour cream

1

cup

3 cheese blend

shredded

cilantro

to top

1.5

cup

lettuce

shredded

Fire Sauce

see above for recipe
Instructions
The Rice
Heat the oil in a medium sauce pan on medium heat until shimmering

Add the rice, salt and cumin and cook, stirring frequently, for 3-4 minutes or until golden brown and bloated

Add the onions and continue to cook another 2 minutes til fragrant

add everything else, stir to combine, bring to a boil, then reduce to low and cook for 20 minutes covered, stirring occasionally
The Rest
Steam a tortilla until adequately malleable- it shouldnt crease much when lightly folded- 20 seconds or so per side in the steam

add your ingredients in your preferred order, wrap tightly and grill in a panini press or weighted down in a pan for 2-4 minutes until tortilla is dark brown and crispy.
Nutrition
Calories:
670
kcal
|
Carbohydrates:
79
g
|
Protein:
21
g
|
Fat:
31
g
|
Saturated Fat:
13
g
|
Polyunsaturated Fat:
4
g
|
Monounsaturated Fat:
10
g
|
Cholesterol:
53
mg
|
Sodium:
1928
mg
|
Potassium:
683
mg
|
Fiber:
10
g
|
Sugar:
10
g
|
Vitamin A:
972
IU
|
Vitamin C:
9
mg
|
Calcium:
417
mg
|
Iron:
5
mg