Weeknight German Goulash

Sorry this is a rare sappy one. Growing up with my Oma, this was one of her staples. (others included spaghetti and meat sauce , burgers) This recipe is adapted from a goulash recipe she had in a German cook book from the 50s so you know it's legit.
Serve with Cucumber Salad (pictured here) or a simple lettuce salad with a mustard dill vinaigrette
What is Goulash? A History and Recipe for the Traditional Stew from Central Europe
What is Goulash?
Goulash is a Hungarian dish, which is a stew. It is made of meat, paprika and vegetables.
Goulash has its origin in Hungarian word "gulyás", meaning "herdsman". This dish was created as a way of cooking leftover meat at the end of the day with local spices and ingredients. Herdsmen would cook this dish over an open fire with whatever they had on hand so it could be eaten right away.
The recipe varies from region to region but most recipes include some kind of beef or pork and paprika as the main spice. Carrots, onions, potatoes, garlic and tomatoes are often added for flavor. Rice is used to thicken the stew for some dishes but others are thin like soup.
The traditional stew from Central Europe is sometimes called Hungarian goulash. It is a type of soup or stew, made of meat and vegetables. The word "goulash" comes from the Turkish word "kulaysh", which means "to chop".
Probably the Turkish origin explains why this dish is a stew, which means it's cooked with pieces of meat chopped into small pieces rather than whole pieces as in other stews.
It was originally eaten by shepherds who were not home very often and was designed to be kept hot over a fire for several days. The dish that we know today as goulash probably started out as a way to feed shepherds but eventually became popular in Hungary and Austria, among other countries.
The Totally Informative Guide to Goulash and All of Its Components
The Question of Goulash's Origin
In the heart of Central Europe, two great cultures exist. One, the German culture, has set somewhat rigid rules for many years. The other, the Hungarian culture, has a knack for throwing in a little of what they like and having that be the perfect thing.
This is where Goulash comes in. Goulash is a dish that is often made with meat and vegetables – sometimes even noodles or rice! It's usually served with bread dumplings or mashed potatoes.
In Germany, Goulash is often called (Butcher's Stew) and known as being something you would eat on a Thursday evening with your family. In Hungary it's called (Goulash Soup) because it's more of soup than stew – but they both start with an onion and at least three different types of meat!
In the early 12th century in the German region, meat was scarce and a mixture of spices and herbs was saved to enhance a small amount of meat. Goulash is a dish that is known to be cooked every single day in Hungary. The initial thoughts were that goulash was cooked on a stove, but it is most commonly cooked over an open flame while still in its iconic iron cauldron. The dish is often served with dumplings or bread to soak up the juices- but any carb can be used as the side dish to go with this rich and savory stew-pot recipe!
Why Dishes Matter for a Tastier Dish! (a song)
Cooking up a tasty dishes
To get that dish recipe right
Time to add some flavorings
To make the Goulash rich and savory!
Sunday morning I'm running low
I need a tasty meal.
It's finger licking good ̶ ̶ but wait
I've burned my goulash, ah!
That's why this dish is so important
So tasty and savory ̶ ̶ Goulash!
What is German Goulash, and What Does it Taste Like?
Goulash's History in the German and Hungarian Culture
Goulash is a soup dish originating in medieval times in Hungary. However, the dish achieved international name recognition when Hungarians settled down in what is now present-day Romania.
Germans call it "gulyasleves" which has roots from the Hungarian word for stew.
There are flavours to be found here – such as paprika and sweet or hot red peppers or spicy chili pepper or tomatoes – but this is not technically a stew, as it never includes bones but always includes cubed bell peppers and chunks of beef that are ready to eat.
A flavourful beef soup with a delicate garlic touch would deserve to be called goulash no matter where you find it!
Before delving into goulash history, it is essential to know about this dish's flavour, ingredients and how cooking yields a hearty dish. Goulash is a beef or beef and pork stew, characterized by the "hunter's spices" of salt, pepper, allspice (aka, pimenta malagueta), onions and Hungarian style paprika. Traditionally served over buttered egg noodles
Cooking goulash will yield a hearty dish with tender carrots. The homemaker will be able to get her dinner ready in just half an hour because goulash cooks while it waits with minimal stirring.
The history of goulash as a dish is especially strong within German culture as certain ingredients such as onions are common vegetables in Germanic cuisine.
The Taste of Goulash- A Rich and Savory Stew-Pot Recipe for Any Season!
Stew pots are hearty, filling, and full of flavor, which is perfect for a cold winter day. This recipe is one my dad's most prized dishes. Whenever he would make German Goulash we knew it was going to be a happy meal full of love.
It can be served with rice as an entree or as an appetizer with a hearty bread or lots of crusty bread fresh out of the oven
Goulash recipe is rich in texture and complexity. Normally, it does not incorporate cream, but some might use it for balance and make the dish more creamy without compromising its consistency or its traditional taste when storing in fridge for a day before eating.
What Does Goulash Mean to Me & You? A Brief History & Analysis of Goulash
Variations on the Goulashes from Around the World
Goulash did not become the symbol of Hungarian cuisine without a reason.
The word "goulash," if it was ever used, referred to various stews made from beef or beef with vegetables that were cooked on the spit.
Goulash dates back to the 9th century, but was only recognized as a traditional dish of Hungary in 17th century. It has adapted through the years and today still molded as a national dish today. Goulash has an interesting story throughout history since it is no longer served exclusively by dishes such as now broadened and included more ethnic variation such as vegetarian versions and ones which incorporate some pork or other meats than just beef. Goulashes have transcended past simple dishes into ceremonial traditions in countries like France and Hungary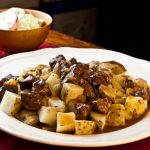 Print Recipe
Goulash
German Goulash on potatoes. Home cooking, comfort food.
Ingredients
2

lbs

stewing beef

chopped into 1" pieces

2 2/3

lbs

russet potato

2

large

onion

large , chopped into 1" pieces

4

cups

beef broth

2/3

cup

red wine

dry

1 1/2

tsp

paprika

1 – 2

tbsps

corn starch

2 – 4

tbsps

water

cold

salt

pepper

500

g

Frozen Vegetables, Mixed

I do peas, carrots, corn, wax beans
Instructions
Cut the beef into bite sized pieces.

add vegetable oil to a large pot, heat on medium-high

Add the meat to the pan in batches so as not to crowd, season with salt and pepper and saute til deeply browned- 4-5 minutes per batch,

After the last batch of meat has been removed from the pan, add the onion and saute til fragrant and beginning to soften, 2-3 minutes

Add the wine to the pot and scrape up all the fond.

Return the meat to the pot along with broth and paprika

bring to a simmer, reduce to medium-low and simmer with the lid on, cracked slightly, for 90-110 minutes or until beef is tender.

When there's about 10 minutes left, mix the cornstarch with water to form a slurry, add to pot along with frozen veg, stirring to combine

Bring back to a simmer then continue to simmer uncovered for 10 more minutes or until the gravy is your preferred consistency. If it's too thin you can continue to reduce the liquid and / or add more corn starch.

Reducing increases flavour, but loses volume. Corn starch maintains gravy volume, but with less flavour.

For the potatoes, cover in heavily salted water, bring to a boil and cook for 10 minutes or until potatoes are fork tender, then strain

Serve goulash over potatoes.
Nutrition
Calories:
582
kcal
|
Carbohydrates:
65
g
|
Protein:
52
g
|
Fat:
10
g
|
Saturated Fat:
3
g
|
Polyunsaturated Fat:
1
g
|
Monounsaturated Fat:
4
g
|
Cholesterol:
112
mg
|
Sodium:
879
mg
|
Potassium:
2085
mg
|
Fiber:
8
g
|
Sugar:
4
g
|
Vitamin A:
5378
IU
|
Vitamin C:
29
mg
|
Calcium:
120
mg
|
Iron:
8
mg