Irish Stew with Garlicky Mashed Potatoes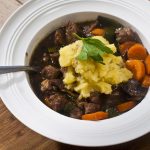 Print Recipe
Irish Stew with Garlicky Mashed Potatoes
Irish Stew with Garlicky Mashed Potatoes Recipe by Raymond Selzer
Ingredients
2

leek

stalks chopped , greens only

1

cup

mushroom

sliced optional

3

carrot

large peeled , chopped

1

lb

beef

stewing cut into bite sized pieces

3

cups

beef broth

1/2

tbsp

thyme

1/2

tbsp

rosemary

1

tbsp

chopped garlic

1

tbsp

worcestershire sauce

salt

pepper

1/2

cup

flour

4

yukon gold potato

medium chopped

3

tbsps

butter

1/2

tbsp

garlic

powder
Instructions
place potatoes in pot of lightly salted water and boil til soft (10-20 minutes)

In the mean time, place beef in a tupper ware container, coat with flour and shake til evenly coated.

in a large soup pot heat oil on medium high, add garlic, beef, thyme, rosemary, salt, pepper. Cook, stirring frequently til beef is browned. If you're adding mushrooms, remove the beef from the pan, saute the mushrooms in the beef juices, then remove the mushrooms and return the beef.

Add carrots, guinness, beef broth and worcestershire sauce. Turn heat to high and bring to a boil. Then reduce to simmer and simmer for 15 minutes. Stir and taste every so often and adjust seasoning with salt, pepper and Worcestershire accordingly.

add leek, then simmer another 5-10 minutes or so til the broth is a deep, opaque brown and flavours have intensified significantly.

When potatoes are done, drain them and add them to a large mixing bowl. Add butter, garlic powder, salt and pepper. Mash roughly with a potato masher and finish with a fork. You want the consistency to be thick and rough because it needs to stand up to being in the broth and not turning to goop.

Serve the mashed potatoes in a bowl of stew.