Salisbury Steak and Scalloped Potatoes
I'm already having flashbacks of public school cafeteria. If you're making these together as one meal, make the steak patties first and refrigerate while you make the potatoes, then start the steak cooking process when the potatoes have about 25 mins left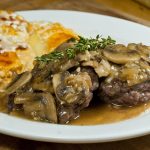 Print Recipe
Salisbury Steak and Scalloped Potatoes
I'm already having flashbacks of public school cafeteria. If you're making these together as one meal, make the steak patties first and refrigerate while you make the potatoes, then start the steak cooking process when the potatoes have about 25 mins left
Ingredients
9

yukon gold potato

medium sized , sliced into 1/4u2033 slices

1

tbsp

butter

/ margrarine

1

tbsp

flour

1 1/2

cups

heavy cream

(35%)

1 1/2

cups

milk

2 %

1

tsp

salt

1/4

tsp

nutmeg

1/4

tsp

pepper

1

tbsp

thyme

1 1/2

tbsps

chopped garlic

1 1/2

cups

cheddar cheese

, shredded

1

lb

ground beef

lean

2

tbsps

butter

1

onion

, diced

2

cups

mushroom

sliced

1

tsp

thyme

2

tbsps

flour

1

cup

beef stock

2

tbsps

water
Instructions
Preheat oven to 375F

melt butter in a sauce pan over medium heat, stir in flour til fully combined. Gradually whisk in cream then milk, bring to a simmer.

Add nutmeg, salt, pepper, thyme and garlic. Reduce heat and simmer for 5 minutes

In a 9xd713 baking dish lay out half the potatoes. Cover with half the cheese and pour in half the sauce. Repeat with other half of ingredients.

Bake in the oven for 1 hour

In a mixing bowl mix together meat, salt, pepper and water. Form into 4 patties about 1/2u2033 thick. Cover and refrigerate for at least an hour

Heat oil in a large skillet, brown patties on both sides then remove from pan and set aside.

Add butter, onions and garlic, season with salt. Saute til onions soften. roughly 3 minutes

Add mushrooms and thyme and saute, stirring frequently for another 5 minutes.

add flour in a thin layer over everything, then stir to combine thoroughly. Cook another 1 minute

stir in beef stock a bit at a time, stopping to combine with flour to avoid lumps.

Bring liquid to a simmer and simmer for 5 minutes

Return patties to the pan, cover and cook another 3 minutes.