Cold Cut and Nacho Sandwich
From Adventure Time S06E18 "Everything's Jake"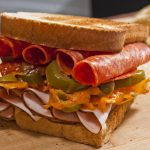 Print Recipe
Cold Cut and Nacho Sandwich
From Adventure Time S06E18 "Everything's Jake"
Ingredients
1/4

bag

corn

restaurant style chips

1/2

cup

cheddar cheese

shredded

10 - 15

olive

green slices

5 - 10

jalapeno pepper

slices

5

Honey maple turkey

breast slices

4

genoa salami

slices

2

bread

slices , toasted

1/4

cup

salsa
Instructions
Preheat oven to 550F

Arrange the chips on a baking pan, try to use the flattest ones

Evenly top the chips with 3/4 of the cheese, add the olives and jalapenos then sprinkle on the remaining cheese.

Bake at 550F for 3-4 minutes

Arrange the turkey breast on a slice of the toast, top with the nachos, then add the salsa then roll the salami and place on the nachos. Add the top bread piece and enjoy!