Brown Cannabutter Chocolate Chip Cookies
Apologies for so much text on this one, but it's all tips you need to make a consistently dosed batch. I promise there's nothing below about how my great gram gram from the old country used to make these weed cookies. And now I make them for my family every Sunday afternoon.
The recipe calls for 169g of butter, if you're not Snoop Dogg, probably don't make the whole 169 cannabutter. I Did 100g cannabutter, 69g regular and made 18 cookies (between 46-48 grams of dough each), because that's what I calculated was the right portion for the high I wanted by using this spreadsheet calculator make a copy of it and use it yourself to calculate dosing for any future recipe by adding in the details of a recipe you know gets you how high you want to get.
Based on your oven, rack placement and pan setup, bake time may vary so pay attention to the first batch to dial in your bake time.
If you want to make sure your dosage is relatively the same per cookie, you'll want to use a food scale to portion out.
Once your dough is made, if you allow it to rest for 3-5 minutes it will firm up some, making it easier to work with portioning it out on the pans
Make sure you know the weight of your mixing bowl before weighing your finished dough then do the math for how many cookies you want.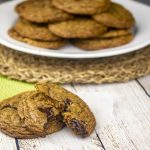 Print Recipe
Brown Cannabutter Chocolate Chip Cookies
Ingredients
200

g

all purpose flour

4

g

kosher salt

4

g

baking soda

169

g

butter

split the whole amount into 113g and 56g

200

g

brown sugar

50

g

sugar

1

large

egg

2

large

egg yolk

2

tsp

vanilla extract

170

g

70% dark chocolate
Instructions
Combine the flour, salt, baking soda in a mixing bowl and set aside

Place a rack just below center of your oven and preheat to 375F

Heat a pan on medium, then add the 113g of butter melt the butter then swirl regularly, scraping the bottom with a rubber spatula. The butter should foam and eventually brown after about 4 minutes. Remove the browned butter to a mixing bowl and allow to cool for 1 minute.

Once the butter has cooled for a minute add the remaining room temperature butter and whisk til fully melted.

Whisk in the sugars until fully combined with no lumps- about 30-60 seconds of whisking

Whisk in the eggs until the dough is fully smooth and the sugar is dissolved. Then whisk in the vanilla

using a rubber spatula fold in the flour mixture. Continue to fold until there are no more dry floury spots in the dough

Gently fold in the chocolate chips until fairly evenly distributed throughout the dough.

Optionally cover the bowl with plastic wrap and allow to rest at room temperature for 5-10 minutes, This will make the dough easier to work with when you start splitting it into cookies.

Prep your pan how you like- I used silicone mats, but you can use wax paper or non stick spray.

Portion out your dough on the pan. For my dosing I make 18 46-48g cookies. Whatever size cookie you make, I highly recommend doing the math and weighing out each ball of dough so you can be confident every cookie has a similar effect. I highly recommend a cookie scoop for this process. Keep in mind the cookies will grow 2-2.5 times in circumference when finished, so be sure to space your dough balls out in the pan liberally

Bake the cookies near the center of the oven for 8-12 minutes. Keep in mind the cookies will continue to firm up as they cool so they should still be a little soft in the oven. To figure out if the cookies are ready in the oven poke one with a toothpick- the edges should be firm, but not hard, the center should be soft and the colour should be golden brown. Visually, you'll know they're done in the oven when the whole cookie has flattened and the center is as wrinkly as the sides. Move the cookies to a cooling wrap and repeat with the next batch.
Nutrition
Sodium:
144
mg
|
Sugar:
18
g
|
Fiber:
1
g
|
Potassium:
87
mg
|
Cholesterol:
55
mg
|
Calories:
220
kcal
|
Monounsaturated Fat:
3
g
|
Polyunsaturated Fat:
1
g
|
Saturated Fat:
7
g
|
Fat:
12
g
|
Protein:
2
g
|
Carbohydrates:
28
g