Black Bean Noodles

Momofuku recently did a pop up at a local brewery (Blood Bros) and one of the dishes they did was a cold black bean noodle dish with candied cashews that blew my mind. Recently I was craving it, but the pop up ended so I was forced to make my own. Being both injured and lazy I was forced to use some easier to find ingredients at my local big box grocer. Still came out great and didn't have to go all the way to China Town for specialty ingredients!
The nuts recipe makes a lot, and frankly you'll want them around as a snack once you've tasted them, so the rest of the dish comes together easily when you have those on hand.
And I guess the slaw is a pain with the match sticking and all if you don't have a mandolin…
Noodles with Black Bean Sauce Recipe
The perfect recipe for cold noodles
The perfect recipe for cold noodles is a dish that can be served as a side dish or as an appetizer.
The Ultimate Guide to Noodles with Black Bean Sauce
A Brief History of Noodles with Black Bean Sauce
In the past, noodles were mainly made from wheat flour. In China, wheat is a staple food and noodles are a popular dish. Wheat flour is mixed with water and kneaded into dough to make noodles. Noodles can be boiled or fried before being eaten.
In the Song Dynasty, people began to use rice as a substitute for wheat flour in making noodles because of its lower price. Rice-flour dough was mixed with water and kneaded into a doughy ball that was then cut into thin strips and cooked in boiling water or oil. This process is still used today to make rice-floured noodles.
In the Ming Dynasty, people learned how to make paste from beans such as black beans, soybeans, mung beans and peas which they then added
What are the Different Ways to Make Stir-Fried Noodles with Black Bean Sauce?
Noodles are a staple food in many different cultures. They are a quick and easy meal to prepare and they can be served with a variety of sauces. This article will explore the different ways to make stir-fried noodles with black bean sauce.
Stir-fried noodles with black bean sauce is a dish that is made by frying noodles in oil and adding some vegetables, such as green onions, cabbage, and carrots. Black beans are added for flavor and sometimes soy sauce is added for additional seasoning.
How to Cook the Perfect Pot of Noodles with Black Bean Sauce
This recipe is for a perfect pot of noodles with black bean sauce. The black bean sauce is the most important part of this dish.
The Health Benefits of Eating More Ramen Every Day
Ramen noodles are a great option for people who want to eat gluten free food. Gluten is found in wheat, rye, barley and oats. So if you have an intolerance to gluten, you can still enjoy ramen noodles.
Ramen soup is a healthy meal that can be eaten for breakfast or lunch. It's not just easy to make but it's also very satisfying and filling. Ramen soup is made with broth which contains lots of vitamins and minerals that are good for your health.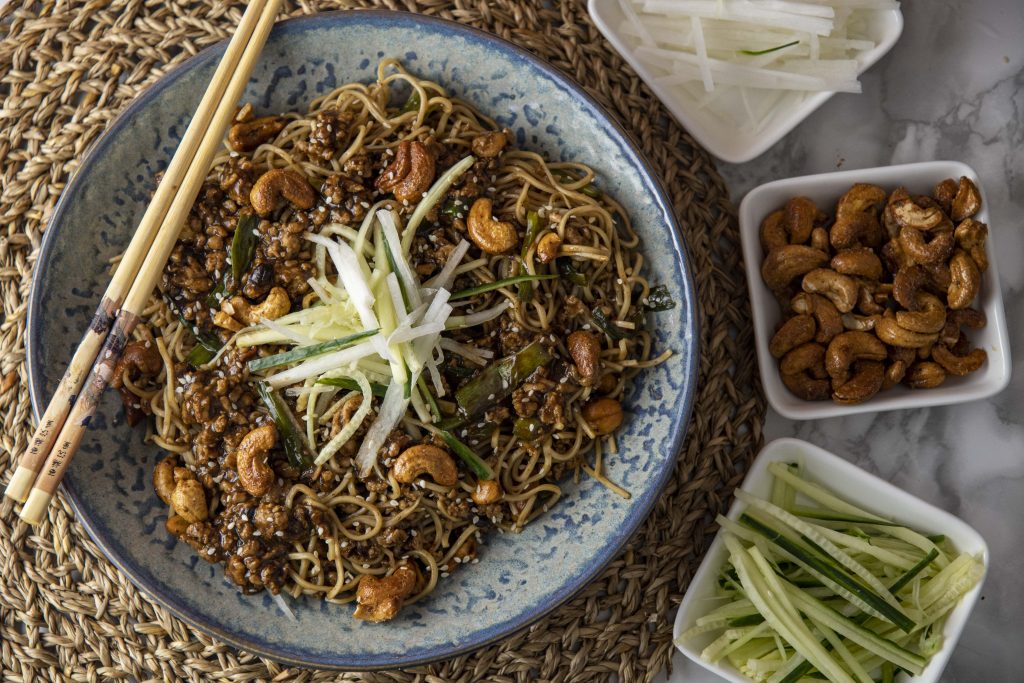 Ingredients
The Sauce & Noodles
1

lb

ground pork

1

bunch

green onion

chopped into 2" pieces, whites and greens separated

1/2

cup

black bean paste

1/2

cup

water

1

tbsp

corn starch

salt and pepper

400

g

dry thin noodles

I used easy to find dry chow mein, but any thin noodle you'd prefer would work here.

2

cups

roasted cashews

see recipe above
The Slaw
1

large

cucumber

cut into 3" match sticks

1

medium

daikon radish
Instructions
The Slaw
chop the veg, toss loosely to combine, or serve separately- your choice
The Sauce & Noodles
in a heated wok add the pork and break apart well, stir fry with salt and pepper until beginning to brown, 3-4 minutes. If juices are forming at the bottom, spread the pork around the sides so it can evaporate off. You want the pork to get some crunchy maillard going on, steam is the enemy of that!

When the pork is nicely browning, add the green onion whites and the sauce, stir to combine with the pork

Combine the corn starch and water in a separate bowl, then stir into the sauce and stir fry for about a minute, just to get the sauce bubbling

Add the green onion greens, remove from heat and set aside to cool
Serving
cook noodles to package directions, then rinse in cold water

Add 1/4 of the noodles to a mixing bowl with 1/2 cup of sauce and 1/2 cup cashews, toss to fully combine then transfer to a serving bowl, optionally add sesame seeds

serve with cucumber daikon slaw and more cashews
Nutrition
Calories:
680
kcal
|
Carbohydrates:
31
g
|
Protein:
31
g
|
Fat:
50
g
|
Saturated Fat:
13
g
|
Polyunsaturated Fat:
7
g
|
Monounsaturated Fat:
25
g
|
Cholesterol:
82
mg
|
Sodium:
221
mg
|
Potassium:
878
mg
|
Fiber:
3
g
|
Sugar:
13
g
|
Vitamin A:
126
IU
|
Vitamin C:
5
mg
|
Calcium:
77
mg
|
Iron:
6
mg