Chicka Bao Bao: Savoury beef buns done two ways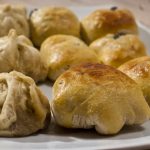 Print Recipe
Chicka Bao Bao: Savoury beef buns done two ways
Chicka Bao Bao: Savoury beef buns done two ways Recipe by Raymond Selzer
Ingredients
1

pizza dough

ball

3/4 - 1

lb

beef

stewing cut into pieces 1/4 "

1 1/2

tbsps

sugar

1 1/2

tbsps

soy sauce

1 1/2

tbsps

oyster sauce

1 1/2

tbsps

sriracha

1

cup

water

salt

pepper

1

egg

2

tbsps

milk
Instructions
Preheat your oven at 375F

add the beef to a wok on high heat, season with salt and pepper, sear til browned- 1-2 minutes. Remove from wok and set aside

Add all sauce ingredients (not the egg or milk) to the wok and bring to a boil. Simmer for about 5 minutes, then return beef to sauce. Continue to simmer til sauce is reduced and almost gone. 10 minutes or so.

Roll pizza dough into a long roll about 2" thick. Cut it into 16 equal pieces. Roll out each piece into a flat circle, about 1/8" thick.

fill a pot with about 3" of water and bring to a boil

Place 1/16th of the meat mixture into each circle. Fold half up them up and pinch at the top to seal- these are the steamed ones. Fold the other half, but don't pinch to seal, flip them over so the folded part is underneath- these are the bake ones.

Place the 8 steam ones in a steamer basket. Steam for around 15 minutes

Place the 8 bake buns folded side down onto a greased baking sheet. In a small bowl whisk together the egg and milk. Brush it onto the top of each bake bun. bake at 375F for 12-15 minutes until golden brown.