Breakfast Roll
The greatest hangover cure ever created.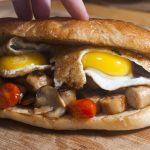 Print Recipe
Breakfast Roll
The greatest hangover cure ever created.
Ingredients
2 8

bun

" soft long or so

1 1/2

cups

mushroom

sliced

10

cherry tomato

halved

to taste

bbq sauce

margarine

as needed

4

sausage

breakfast

to taste

salt

4

egg
Instructions
Heat olive oil in a skillet on medium high til almost sizzling, add sausages. Fry sausages, turning til brown on several sides. Remove from pan

Add mushrooms to the pan, toss with more olive oil and salt.

While the mushrooms are sauteing slice the sausages into 1/2" pieces. Return the sausage pieces to the pan and toss to combine. Continue to suate til musrooms brown and soften- 5 minutes.

Add tomato halves to pan, toss to combine and allow to saute til they begin to wilt- 2 - 3 minutes

Remove everything from pan and set aside. Crack two eggs into the pan and allow to cook sunny side up. Don't over cook, you want runny yolks for dippin' repeat with another 2 eggs for second sandwich.

While the eggs are cooking cut open your bun lengthwise. Not all the way through, enough that you can open in all the way. Butter both insides.

When the eggs are done, remove from pan and set aside. Press the bun butter side down onto the pan to toast and also soak up any remaining grease from the previous ingredients.

Build the sandwich- mushrooms, sausage and tomatoes on the bottom, then the 2 eggs on top and drizzle on a little bbq sauce.