Sausage Quesadilla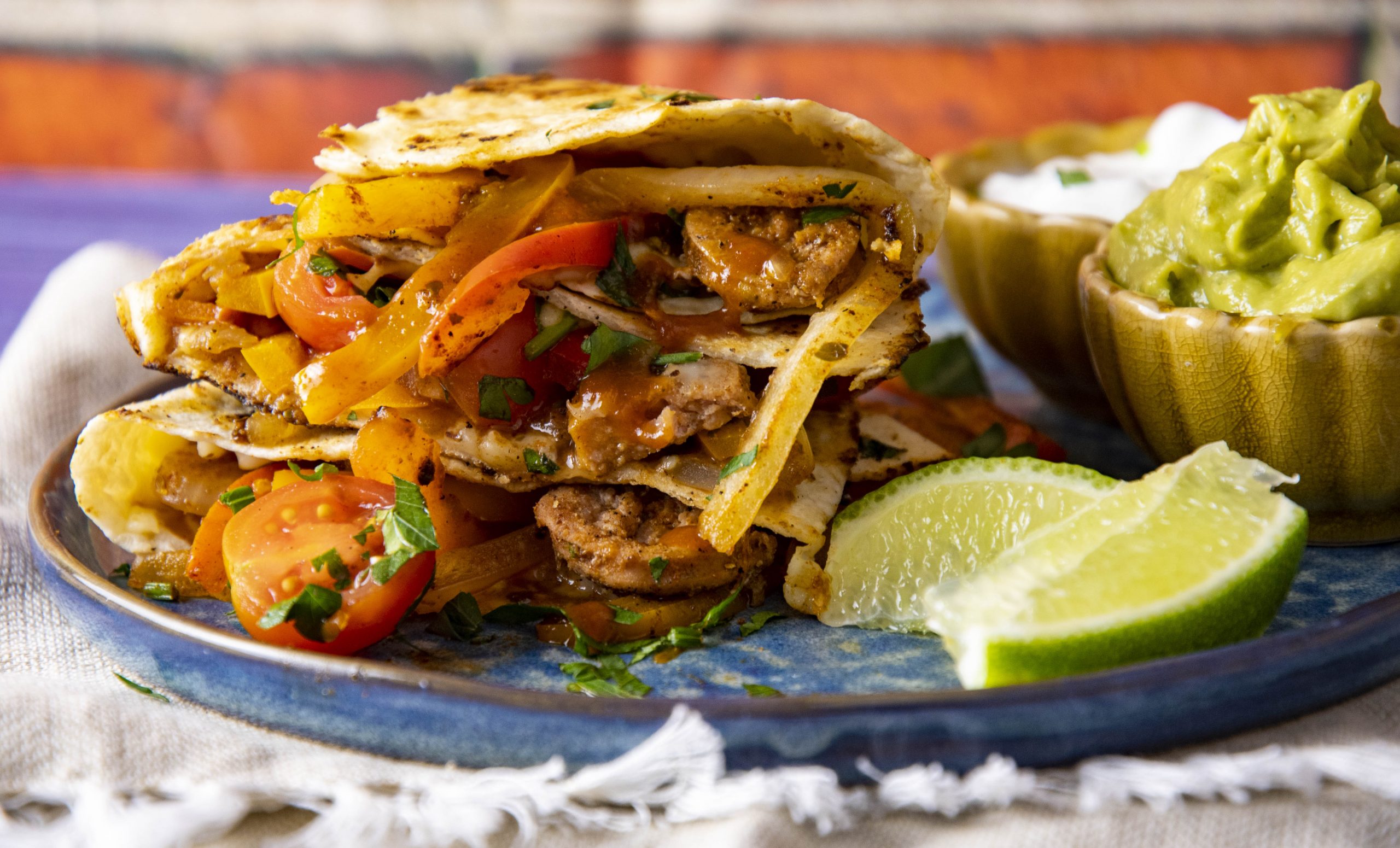 This one's a bit of a bastardization- feel free to use chorizo here instead of Italian sausage. I went Italian because it tends to be easier to find in my area and I actually had some on hand already! The cumin and paprika that go into the veg are basically there to amp up the smokiness anyway.
How to Make the Perfect Sausage Quesadilla
What is a Sausage Quesadilla?
A Sausage Quesadilla is an American dish consisting of a flour tortilla with sausage, cheese, and other ingredients.
A Sausage Quesadilla is made by cutting a flour tortilla in half and placing it in a frying pan. Sliced sausage may be added to the center of the quesadilla before it is folded over. The fried quesadillas are then placed on a plate with shredded cheese on top
and then sliced into wedges to serve.
The term "quesadillas" can refer to both the pan-fried (gorditas) and grilled (tortas) varieties. The most common filling for quesadillas are cheese or Mexican chorizo sausage, but they can also be filled
What are the Best Types of Meats for Making Quesadillas?
When you are making a quesadilla, it is important to have an ingredient that will provide the best flavor. If you are having trouble deciding what meat to use in your quesadilla, here are some suggestions.
– Chicken: The softness of the chicken makes it easier to shred. You can also use dark or white meat for this recipe.
– Beef: Leaner cuts of beef like flank or skirt steak work well because they won't dry out when they cook. These types of meats also have a long cooking time which means they won't need any additional oil in the pan because there is enough fat in them already.
– Pork: Make sure not to cut the pork too thick when you make your slices because pork can dry out very quickly during cooking and become
The Secret to How to Make the Perfect Quesadilla
A quesadilla is a Mexican dish that usually consists of a tortilla dipped in oil and then roasted in a skillet.
In order to make the perfect quesadilla, one must have these ingredients:
-1 flour tortilla
-1/2 cup of grated cheese
-1/4 cup of salsa
-optional ingredients such as chopped peppers, shredded beef, or chicken
The Complete Guide to the Best Sausage Quesadillas Maker and How You Can Make Sausage Quesadillas in Less than 20 Seconds!
How to Choose The Best Sausage Quesadilla Maker for Your Needs
The sausages and cheese in a quesadilla make it a delicious breakfast option. However, you'll need the right appliance to cook this dish. The following article will provide information on three different types of quesadilla makers to help you choose the best one for your needs.
The first type is a panini press, which has two plates that heat up from both sides to create a crisp outer layer with a rich and cheesy center. The second type is an electric grill, which has a heating element in the middle that can be turned on or off. This makes it easy to cook foods that require different levels of heat or cooking times without having to use two or more appliances at once. The third type is an electric frying pan, which functions much like using an electric stove top but
Ingredients
The Quesadillas
3

link

Italian Sausage

I used spicy

1

large

red pepper

sliced thin

1

large

yellow pepper

or orange, sliced thin

1

medium

vidalia onion

or other sweet onion, sliced thin

1 1/3

cup

shredded mozarella

or other mild cheese of choice

4

10 in

tortilla

1

tbsp

paprika

1

tbsp

cumin

1/2

tbsp

oregano
The Pico De Gallo
30

g

cherry tomato

halved

1

tsp

lime juice

1/2

cup

cilantro

rough chopped, plus more to garnish

salt and pepper
To Serve (optional)
sour cream

guacamole

lime wedges
Instructions
The Pico De Gallo
Combine all ingredients in a mixing bowl and toss to fully combine. Set aside while you make the rest of the stuff. Do this first so it can sit awhile for the flavors to combine!
The quesadillas
Cook the sausages for 1-2 minutes at medium heat, on each flat side- enough to brown and firm slightly

Slice the sausages 1/4" thick, or the same thickness of your veg, then return to pan and brown each side- 1-2 mins per side and remove, leaving any oils in the pan

add the onions to the pan, season with salt and saute 5-6 mins until browned and soft

add the peppers and spices, add extra oil if necessary and toss to fully coat everything in the spices

return sausage to the pan and continue to cook another 3-5 minutes, then remove and set aside

Turn heat to medium-high, lay down 1 tortilla, cover evenly with 1/3 cup shredded cheese, pile peppers, onions, sausage and 1/4 of the pico onto half the quesadilla, fold the other half over the ingredients, press to flatten and continue to fry until bottom is dark brown and crisp, 1-2 minutes. Flip and cook another 1-2 minutes until other side is dark brown and crisp.

Serve optionally garnished with more cilantro and sides of sour cream and guacamole
Nutrition
Calories:
679
kcal
|
Carbohydrates:
51
g
|
Protein:
28
g
|
Fat:
40
g
|
Saturated Fat:
16
g
|
Polyunsaturated Fat:
5
g
|
Monounsaturated Fat:
17
g
|
Cholesterol:
93
mg
|
Sodium:
1343
mg
|
Potassium:
734
mg
|
Fiber:
5
g
|
Sugar:
10
g
|
Vitamin A:
2694
IU
|
Vitamin C:
146
mg
|
Calcium:
333
mg
|
Iron:
6
mg