Roasted Butternut Squash and Carrot Soup with Chili Garlic Mushrooms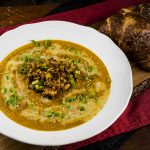 Print Recipe
Roasted Butternut Squash and Carrot Soup with Chili Garlic Mushrooms
Ingredients
The Soup
1

lb

butternut squash

peeled, seeded, chopped

1

lb

carrot

peeled, chopped

3

cups

unsweetened soy milk

4

cups

vegetable broth

1

large

onion

chopped

3

tbsp

chopped garlic

1/2

tbsp

smoked paprika

1

tbsp

italian seasoning

1

tbsp

lemon juice

1

tsp

black pepper, ground

2

tbsp

fresh zested ginger

sesame seeds

for garnish

green onion, sliced

for garnish

2

tbsp

olive oil

3-6

croissants
The Mushrooms
6

caps

shiitake mushrooms

finely chopped

1/2

cup

green onion

2

tbsp

chili garlic sauce

1

tbsp

red miso paste

optional

1/2

tbsp

soy sauce

1

tbsp

white rice vinegar

1

tbsp

vegetable oil
Instructions
The Soup
preheat oven to 400F

In a large mixing bowl toss the squash and carrots in oil. Then add all the spices and toss more till evenly coated.

Spread the vegetables over 2 roasting pans and roast for 40 minutes

When there are about 8 minutes left of roasting time for the vegetables sautee the onion and garlic in a large soup pot til the onions are soft and fragrent

Add the vegetables to the pot along with the vegetable stock. Bring to a boil, reduce to medium low, cover and simmer for 10 minutes.

Remove the soup from the heat and blend with a hand emulsifier until fully smooth. Slowly stir in the milk then return to heat and simmer on low covered for 20 minutes

remove the soup from the heat 5 minutes before serving. Just before serving stir in the lemon juice. You want the soup to have cooled some before adding the lemon juice to prevent curdling.
The Mushrooms
Whisk together all ingredients except the mushrooms and onions

When the soup has about 10-12 minutes left heat the sauce in a medium pan on medium high til sizzling. Stir in the mushrooms and reduce heat to medium.

Sautee the mushrooms for 8-10 minutes on medium, stirring occasionally. Add the onions to the pan with 2 minutes left and stir to combine.

Fill a bowl with soup, place 1/3 of the mushrooms in the center and garnish with fresh green onions and sesame seeds. Serve with 1-2 croissants per bowl