Leek and Pea Soup with Basil Oil and Sour Cream

Lessons Learned TLDR:
Leek is annoying to prep
Sieve pressing makes shit real smooth!
Sieve pressing is real boring!
I should read recipes thoroughly. The original mentions right at the top pressing is optional.
My Nikon's file naming scheme rolled over which means this is the 10,000th picture I've taken with this camera!
I know you're not reading this part, I put that "skip to recipe" button up top for a reason 😉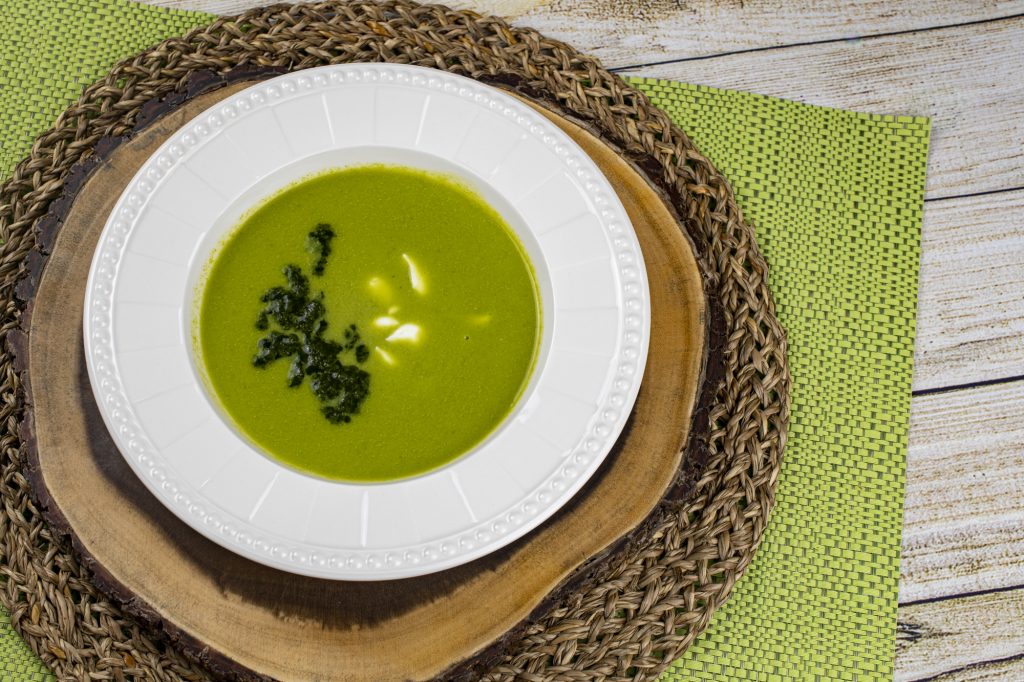 Original amazing recipe courtesy of Yotem Ottolenghi
You're in for a lot of pee puns if I don't get this out of the way now:
Don't you hate when you leek when you pea? Eh? Eh? Anyway, on to business.
The texture of the broth is fucking next level. This is far and away the creamiest thing I've ever made that didn't have any cream.
But, holy shit that was the most labor I've ever put into making a soup, and the number of dishes generated was insane. Luckily there was that 20 minute period when the veggies cook down that I was able to clean a lot of the mess. Too bad the messiest part happens after: the blending.
I'd never be able to get this texture without cream or pressing, but I'm gonna try.
To get this phenomenally creamy texture, first you blend everything until it's as smooth as your blender can achieve. Then you press it all through a sieve into a new pot. For like 15 minutes. Per batch.
The effort and time required to push it all through the sieve was more annoying than kneading dough for pasta. But, like homemade pasta, the difference in quality between the hard way and the easy way is obvious. And appreciated.
Ain't nobody got time for that.
Oh! I forgot about the basil oil. SO GOOD, picture a lighter, milder pesto. I have zero changes for that. Cheap, easy, and delicious. That checks most of my boxes. Only things it misses are that there's lots of calories in the oil and also it didn't dominate me enough, to get off.
The Good Enough Version
The sieve either has to go or be a lot quicker. If I just thin it out with more water, or less leek we get less flavor so I'm gonna try thinning out the broth with vegetable stock (might as well keep this vegetarian). Also my opinion of the original was that the basil oil did all the heavy lifting in the flavor department. The contrast between the mild sweetness of the broth, and the fatty herby goodness of the oil obviously plays a part, so I'm not super worried about some flavor loss. Also I'd prefer not to resort to straight up cream because of the calories. The idea that this dish can taste so creamy, but be so low in calories is a big thing for me.
1% Sour Cream instead of Crème Fraiche. CF Isn't that fancy an ingredient, any place that's even slightly fancy is gonna have it. But unless I know for sure my grocery has a thing, it's inconvenient. Gone.
Can't do anything about this one really, but holy shit are leeks labor intensive to clean and chop at this scale. I don't envy any prep cook stuck on leek duty.
The white pepper has a distinct flavor and plays a crucial role in the broth's flavor. If you have or already wanted to get white pepper, I'd recommend it. You won't miss it too much swapping in black pepper, though. I think this is the fourth ever time I've used white pepper in something.
Don't get me wrong. Shallots are great, and they're unique, and they are the perfect choice for this soup. If someone else is making it for you. Shallots swapped for cooking onion.
Leek and Pea Soup with Basil Oil and Sour Cream
Ingredients
The Broth
2

tbsp

olive oil

2

tbsp

butter

2

leek

trimmed, sliced fine and cleaned

1

medium

onion

chopped fine

2

stalks

celery

chopped fine

2

tsp

chopped garlic

2

bay leaf

1/4

tsp

white pepper

black is fine too (in these trying times)

800

g

peas

I got 2 400g packs.

1/4

cup

sour cream

for serving, ideally 1% but not a big deal

1

cup

water

2

cup

vegetable broth

1-2

tsp

lemon juice
The Basil
4

cups

basil

leaves only, loosely packed

1

tsp

chopped garlic

100

ml

olive oil
Instructions
The Basil
combine all ingredients in a food processor and process til combined.
The Soup
Heat the olive oil in a large soup pot on medium. Once hot add the butter, onions, celery, white pepper, garlic and season with salt. Saute for 2 minutes until soft and fragrant

Add the leeks and cook on medium-low covered for 20 minutes,

Add the peas, bay leaves, water and broth. Bring to a boil on high, then reduce to simmer and cook, covered another 20 minutes

Remove the bay leaves and blend everything until fully smooth, Add lemon juice and salt to taste

Serve with a tablespoon of basil oil and a tablespoon of sour cream
Notes
The servings are small, because this shit is fancy.
It's tagged as vegan because I assume you're smart enough not to include the sour cream topping for vegans. Don't @ me about it.
Nutrition
Calories:
289
kcal
|
Carbohydrates:
21
g
|
Protein:
7
g
|
Fat:
21
g
|
Saturated Fat:
5
g
|
Polyunsaturated Fat:
1
g
|
Monounsaturated Fat:
1
g
|
Trans Fat:
1
g
|
Cholesterol:
11
mg
|
Sodium:
286
mg
|
Potassium:
376
mg
|
Fiber:
6
g
|
Sugar:
8
g
|
Vitamin A:
2072
IU
|
Vitamin C:
46
mg
|
Calcium:
74
mg
|
Iron:
2
mg