Hot and Sour Soup
Had mushrooms leftover from the last soup, figured I'd use them in this. Now I have leftover tofu…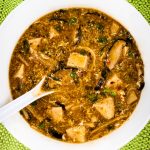 Print Recipe
Hot and Sour Soup
Ingredients
4

cups

vegetable broth

8

oz

canned bamboo stalks

drained and sliced thin

8

oz

shiitake mushrooms

stemmed and sliced

8

oz

firm tofu

cubed

2

tbsp

chopped garlic

1

tbsp

fresh zested ginger

1

tbsp

balsamic vinegar

5

tbsp

white rice vinegar

4

tbsp

garlic chili sauce

3

tbsp

soy sauce

2

tsp

brown sugar

2

tbsp

corn starch

mixed into 2tbsp warm water

2

egg

beaten

2

tsp

sesame oil

1

tsp

white pepper

4

green onion

chopped
Instructions
In a soup pot heat some vegetable oil on medium, add garlic and mushrooms and sautee for 2-4 minutes

Mix together the vinegars, chili sauce, ginger, soy sauce,brown sugar and sesame oil. Add the mixture to the pot along with the tofu and bamboo. Bring to a boil then reduce to medium and simmer covered for 3-5 minutes.

Stir in the broth, bring to a boil, reduce to medium low and simmer, covered, another 10 minutes.

Stir in the corn starch mixture. Stir until the soup thickens- another minute or so

Slowly pour in the egg while continuing to stir. Simmer, covered, for another 3 minutes.

Stir in the onions, simmer another 2 minutes uncovered then serve.