Rigatoni alla Genovese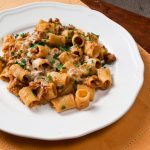 Print Recipe
Rigatoni alla Genovese
Ingredients
1

kg

yellow onion

, finely chopped

300 - 400

g

ground beef

or

2

tbsps

chopped garlic

225

g

rigatoni

3/4 cup

parmesan

shaved plus more for garnish

salt

pepper

parsley

fresh for garnish

1/4

cup

cream

table

1/4

cup - 1/2 cup

white wine, dry

olive oil
Instructions
liberally coat the bottom of a heavy bottom sauce pot with olive oil

add all the onions, coat with more olive oil and a liberal amount of salt. Stir to combine. Cover and heat on medium for 40 minutes, stirring every 10-20 minutes

If the onions are completely translucent and a good amount of liquid has appeared, stir in the meat and garlic. Stir hard and long to completely break apart the meat and combine it with the onions.

Cover and simmer on very low for 2-3 hours, stirring every 30 mins or so.

Bring a pot of salted water to boil, cook the rigatoni til el dente.

Deglaze the pot with the wine, stir to combine and turn the heat to medium-low to cook off the wine while the pasta cooks.

As soon as you've added the rigatoni to the water reduce heat back to very low and stir the cream into the sauce and adjust seasoning with salt and pepper.

Preheat your broiler after you add the rigatoni to the water.

Drain the pasta and add it to the sauce, stirring to combine.

Spoon the pasta onto plates and cover each with 1/4 cup shaved parmesan

Place each plate under the broiler for 30-45 seconds, remove and garnish with parsley. Serve with extra parmesan on the side.