Post Game Chili

Probably don't bring this one to your Super Bowl game. It's got broccoli.
I play a lot of sports and sweat a lot doing it, so I wanted a consistent and easy post game meal I could pop in the microwave after the game. I was already thinking of doing a chili, but I decided to do some Googling to see if I could punch up the protein and the electrolytes I sweat away playing.
Substitute the beef for chicken, still high protein, but also higher in electrolytes. Add chickpeas- there's already kidney beans, chickpeas also add electrolytes. And finally broccoli! It's another high electrolyte veggie and I know how well broccoli works in a sauce from dishes like beef and broccoli.
The recipe I modified from is J Kenji Lopez's Weeknight Chili from The Food Lab.
And now here's Robort with a little something for the algorithms
The Ultimate Guide to Post-Game Nutrition for Athletes and How to Maximize Performance with the Right Meal Plan
What is Post-Game Nutrition and How Does it Impact Performance?
Eating the right nutrition after a game is key to replenishing the energy athletes need, both for recovery and preparing for the next game. Post-game nutrition is therefore not only about satisfying hunger and craving, but also making sure that athletes get the right mix of vitamins and minerals.
A balanced post-game diet plan tailored to an athlete's body type and playing style can help them maintain their performance levels while exercising. It gives sufficient amounts of fuel so that they can recover faster, avoid injury, replenish energy levels quicker and ultimately take their performance to a higher level.
The Top 3 Nutrients Every Athlete Needs After Playing a Game
As athletes, we understand how important it is to take the necessary steps after a game or workout in order to maintain and build our bodies. But what about the nutrients that you need for proper muscle recovery? It is crucial for athletes to consume the right nutrients after playing or exercising in order to recover optimally. Athletes should prioritize consuming after every game they play. We talk about the role of protein, carbohydrates, and electrolytes and why they are some of the most important post-exercise foods.
Post-exercise nutrition is an essential part of any athlete's regimen, as it helps with muscle recovery and performance optimization. The right combination of proteins, carbohydrates, and other essential nutrients can help an athlete replenish the energy and nutrients lost during strenuous physical activity. In this article, we'll discuss the top three most important nutrients that athletes need to consume following all types of games or activities. We'll explain why these nutrients are necessary for muscle recovery and overall performance optimization. We will also provide helpful tips on how to get the most out of these nutrient sources for optimal post-exercise nutrition.
Best Foods to Eat After Competition & Optimal Timing Strategies
Eating the right food is critical to helping athletes perform at their best after a competition or physical activity. It can help them to restore energy and refill their depleted stores while promoting muscle growth, strength, and even mental clarity. Eating after competition isn't only about refueling though; it's also about eating the right foods to aid in recovery, allowing athletes to perform better for their next game or activity. This article will explore the best foods to eat after competition, how soon they should be consumed, as well as pre-and post-exercise meal plans.
It is just as important as training and competing in a sport. Proper nutrition after a workout, competition, or other physical activity helps refuel the body for optimal performance. As such, it is important to have an effective post-game eating plan that will replenish vital nutrients, regulate insulin levels, and help with recovery from intense exercise.
Choosing the Right Post-Game drink and Hydration Tips
A key part of playing a sport is exercise.

Quick Tip!
However, many athletes do not always remember the importance of post-game chili flavoured drinks when it comes to recovery. Post-game sports drinks can help athletes replenish lost energy, electrolytes, and proteins, giving the body the energy it needs to recover in time for another game. Knowing which types of chili provide the best results after a game can help athletes stay in shape and maintain their performance levels on the field.
After a game, athletes often look to reduce fatigue and replenish their energy through drinks. While many sports fans opt for energy drinks, hydration drinks and protein shakes offer a more beneficial option to boost performance and give athletes an extra edge on the field. In this article, we'll cover the best energy drinks for athletes, electrolyte drink options after a workout, and when to opt for protein shakes after a game. We'll also provide some tips on how to maximize hydration and prevent fatigue throughout physical activities. With this information in mind, athletes can make better decisions on which post-game drink could best suit their needs.
After an intense game or workout, it's important to rehydrate and refuel your body. It's essential to replenish the electrolytes you lost so that you can start to feel better fast. To do this, athletes need to choose the right drinks to provide them with the nutrients and hydration their body needs.
There is a wide array of drinks that athletes can choose from: from electrolyte drinks and protein shakes, to energy drinks with added vitamins and minerals. But not all post-game drinks are created equal. When choosing a drink for optimal post-game recovery, it's important to consider factors like flavor, calorie count, ingredients, added nutrients and whether or not it will help replenish electrolytes. In this article we'll dive into some of the best energy drinks for athletes after a game or workout as well as some tips on hydration.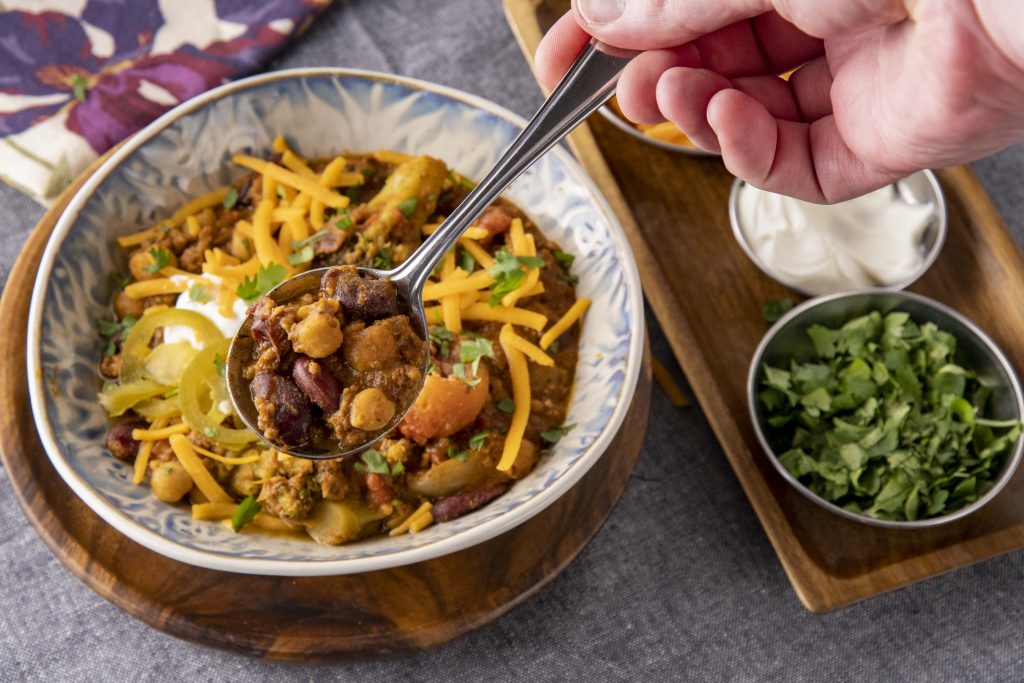 Ingredients
4

tbsp

butter

2

medium

onion

diced

4

clove

garlic

crushed

1

tsp

mexican orenano

regular is fine too

pinch

salt

4

chipotle peppers adobo sauce

minced, be liberal with the adobo sauce

2

tsp

anchovy paste

1/4

cup

chili powder

yes, QUARTER CUP

1

tbsp

cumin

5.5

fl oz

tomato paste

1 small can

2

lb

ground chicken

lean

28

oz

whole tomatoes

drained, slice each tomato in half

15

oz

kidney beans

15

oz

chickpeas

500

g

broccoli florets

1 bag frozen

2

tbsp

maseca

or cornmeal (optional)

black pepper

garnishes

I use cheddar, sour cream, jalapenos, cilantro

2

cup

chicken broth
Instructions
Set a large pot on medium heat and melt the butter.

Add onions, garlic, oregano, stir and saute til onions golden. 5 minutes

add chipotles, tomato paste, anchovy paste, chili, cumin, and cook til fragrant, about 1 minute

Add the chicken and fold everything together with a wooden spoon, cook til no longer pink, 5 minutes

add tomatoes, beans, stock, stir to combine and bring to a boil on high

reduce to simmer, cover with lid, leaving a crack

cook for 30 mins, stirring occasionally

Add broccoli florets and maseca, cover and cook another 10 minutes
Nutrition
Calories:
383
kcal
|
Carbohydrates:
39
g
|
Protein:
28
g
|
Fat:
15
g
|
Saturated Fat:
5
g
|
Polyunsaturated Fat:
3
g
|
Monounsaturated Fat:
5
g
|
Trans Fat:
0.2
g
|
Cholesterol:
92
mg
|
Sodium:
561
mg
|
Potassium:
1465
mg
|
Fiber:
13
g
|
Sugar:
9
g
|
Vitamin A:
3139
IU
|
Vitamin C:
62
mg
|
Calcium:
119
mg
|
Iron:
6
mg