Porkchops in sriracha honey sauce
It has sriracha in it, of course you want to make this. Also the recipe makes a ton of sauce, so you can use it on a ton of things (I think I'm gonna roast a chicken in it tomorrow)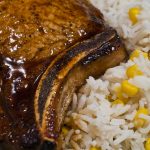 Print Recipe
Porkchops in sriracha honey sauce
It has sriracha in it, of course you want to make this. Also the recipe makes a ton of sauce, so you can use it on a ton of things (I think I'm gonna roast a chicken in it tomorrow)
Ingredients
2

pork chops

5

tbsps

butter

/

1/3

cup

honey

1/3

cup

sriracha

1

tbsp

soy sauce

2

tsps

lime juice

salt and pepper

/
Instructions
pre heat the oven to 350F

set a cast iron pan on high and add vegetable oil

rub both sides of the pork chops with salt and pepper

Put everything but the porkchop into a pot and bring to a simmer, reduce heat and stir occasionally, allowing to thicken. Around 10 u2013 15 minutes

When the cast iron pan is very hot add the pork chops and sear both sides 3 minutes per side.

Brush some sauce onto the pork chops, flip them and brush the other side, then put the pan into the oven

Cook in the oven for 5 minutes, flip the chops and cook another 5 minutes

Remove the chops from the oven and allow to rest wrapped in tin foil for at least 8 minutes

pour on more sauce and serve!