Spinach and Goat Cheese Ravioli in Rosé Sauce with Bacon and Vidalia Onion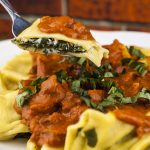 Print Recipe
Spinach and Goat Cheese Ravioli in Rose Sauce with Bacon and Vidalia Onions
Ingredients
The Sauce
23

fl oz

crushed tomatoes

2/3

cup

heavy cream

2/3

cup

beef broth

1/3

cup

white wine, dry

1

lb

bacon

sliced into 1/4″ pieces

1/2

large

vidalia onion
The Pasta
10

oz

flour

6

large

egg

2 whole, 4 yolk

1

tsp

salt

250

g

goat cheese

1

bundle

spinach

1

tbsp

chopped garlic

1/4

cup

fresh basil

chiffoned

2

tbsp

beef broth
Instructions
The Ravioli
mix the salt into the flour then form the flour into a large pile and form a well in the center with your fingers. Add the eggs to the well and slowly mix together the eggs and flour with a fork.

Once everything is combined into a dough ball, roll and knead it for 5 minutes straight until a smooth dough ball is formed. Wrapped the dough in plastic wrap and set aside for at least 30 minutes. While the dough rests make the sauce then return to these instructions.

Cut the dough ball into 4 equal pieces, run each piece through your pasta maker to the second or third last setting. Cut the sides off the pieces to make them long rectangular strips.

Add the filling to the dough with a teaspoon, spacing each filling ball by about 1 filling ball's width- 3-5 balls to a sheet. Fold the dough in half lengthwise over the filling. Press the edges of the dough and the spaces between the filling then cut the pieces and press their edges with a fork. Repeat with the other 3 sheets

Add the pasta to boiling water and boil 3-4 minutes until it floats. Stir constantly to ensure pasta doesn't stick to itself.
The Sauce and Filling
Add the bacon to a sauce pot and cook on medium-high til it begins to get stiff, about 8-12 minutes. Remove with a slotted spoon and set aside, leaving the grease in the pot.

Add the onions to the pot and sautee in the bacon grease til softened, about 5 minutes. Remove the onions from the pot, leaving the juice and grease.

While the onions cook add the goat cheese to a mixing bowl and mash with a fork.

Add the spinach and garlic to the pot, reduce the heat to medium and stir to coat. Sautee til wilted, about 3 minutes.

Add the spinach 2 tbsp beef broth to the cheese and whisk with a fork to combine.

Turn the heat on the pot up to high til the remaining bacon stuff crackles. Add the wine to the pot and scrap with a flat wooden spoon til the liquid reduces and darkens- about 1-3 minutes. Reduce the heat to medium, add the broth, tomatoes, bacon and onions. Stir to combine then add the cream and stir to combine. Simmer on medium-low at least 20 minutes.

Serve the ravioli topped with sauce and garnished with chiffoned basil