Gnocchi with Bacon, Spinach, Vidalia Onion and Herbed Goat Cheese in Rosé Sauce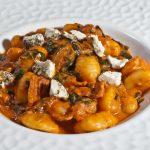 Print Recipe
Gnocchi with Bacon, Spinach, Vidalia Onion and Herbed Goat Cheese in Rosé Sauce
Gnocchi with Bacon, Spinach, Vidalia Onion and Herbed Goat Cheese in Rosé Sauce Recipe by Raymond Selzer
Ingredients
1

tbsp

chopped garlic

olive oil

1/2

lb

bacon

, cut into squares

1

bunch

spinach

, stems removed

1/2

vidalia onion

sweet

15

oz

tomato

pured

1/3

cup

beef broth

1/4

cup

heavy cream

100

g

goat cheese

herbed , cut into 1/2 u2033 pieces
Instructions
Put a medium sized pot of lightly salted water on to boil

In a medium sized skillet fry the bacon just enough to get most of the grease out, but leave it still slightly undercooked

In a large pan heat olive oil on medium high, then add garic and saute for a minute.

Chop onion into 1/4u2033 rings, then quarter the rings.

use tongs to transfer bacon to large pan, shaking off any excess grease.

Add spinach to large pan and cover for 1-2 minutes, uncover, stir around spinach and cover again. Repeat til spinach is completely wilted.

Stir onions into the pan. Saute for 2-4 minutes, stirring occasionally until onions begin to get translucent but are still firm.

Add tomatoes and broth, stir to thoroughly combine. Raise heat and bring to a boil, then reduce to simmer.

Add cream and stir to thoroughly combine.

Add gnocchi to boiling water, as pieces begin to float to the surface of the water use a slotted spoon to transfer them to the sauce.

Once all the gnocchi is in the sauce stir to thoroughly combine. Serve garnish with goat cheese pieces.