Spicy Tofu Ramen With Kale and Boiled Egg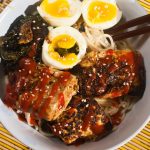 Print Recipe
Spicy Tofu Ramen With Kale and Boiled Egg
Spicy Tofu Ramen With Kale and Boiled Egg Recipe by Raymond Selzer
Ingredients
2

tbsps

olive oil

1

package

firm tofu

extra

8 - 12

oz

ramen noodles

4

cups

kale

fresh, ripped into bite sized pieces

2

tbsps

sesame oil

sriracha

sesame seeds

for garnish

1

tbsp

ginger

fresh minced

1

tbsp

chopped garlic

2

tsps

rice vinegar

1 1/2

tbsps

soy sauce

1

cup

chicken broth

or vegetable

2

egg
Instructions
place the tofu flat down, cut it in half width wise, then into 4 or 5 equal parts length wise

Heat olive oil in a wok, add tofu slices so they're all flush to the bottom of the pan. Cover and cook on medium for 8 - 10 minutes til bottom is carmelized. Then flip and cook another 3 minutes, then remove from wok and set aside.

Boil the ramen noodles per package directions, drain and set aside

Bring a pot of water to boil then boil the eggs for 6 1/2 minutes, then immediately blanch in ice cold water.

in a separate pot heat 2 tbsp of sesame oil on low, add garlic and ginger. Stir til fragrant, but not browned. Then add chicken broth, soy sauce, vinegar, and sriracha to taste.

Once you've removed the tofu from the pan, add the kale and saute for a couple minutes. Return the tofu to the pan and cover with the broth. Cook on medium 2-3 minutes, turn the tofu and cook another 2-3 minutes

Slice the eggs into 3 pieces each, split the ramen noodles between 2 bowls, with 3-4 tofu pieces, half the kale each and 3 egg pieces each. Drizzle with sriracha and remaining sauce, sprinkle on sesame seeds.
Notes
The sauce can be prepared in bulk, but if you're doing it just for this dish then you're gonna have 4 pots going at once if you want everything to time out right.