Sous Vide French Dip Sandwich

I'll never roast a roast in the oven again. Sous vide roast FOR LIFE. So tender and flavourful.
The Scrambled Musings Of Robort, the Robot Dog
Robort doesn't always know what he's talking about, but he sure does have a lot to say about food. If you're not also a robot, dog, or robot dog, it's best to just ignore what he says and skip to the recipe
The Only Sous Vide French Dip Sandwich Recipe You'll Ever Need: Best Sous Vide Recipe for Lunch Break (blog outline)
Cooking a Roast the Traditional Way is A Waste of Time. Roasting it in Oven is Too much Effort. Why not make your sous vide roast beef today at work with this simple, easy and effortless recipe? (keywords: sandwiches, food, recipes)
10 of the Tastiest Recipes Make Using the Sous Vide Cooking Method
The sous vide cooking method is a technique that has been around for over 50 years, but it has only recently become popular in the last few years. It involves cooking food in a vacuum-sealed bag that is then placed in a water bath at a precise temperature for an extended period of time. This method is perfect for those who want to cook meat to perfection and make it more tender, or want to cook vegetables without having them overcook.
The Surprisingly Easy Way to Cook an Amazing Sous Vide French Dip Sandwich
Master the Custom Technique of Cooking Exceptional Sous Vide French Dip Sandwiches
Sous vide cooking is a way of cooking food at a low temperature for a long period of time. The food is vacuum sealed in plastic and cooked in water that is heated to the desired temperature.
The benefits of sous vide cooking are:
– It cooks evenly, which means it provides an even browning and doesn't dry out the meat.
– It retains all the natural juices, which means you don't need to use any extra sauces or marinades.
– You can cook it up to 72 hours before you eat it, which means you can cook your food ahead of time and have it ready when you want it.
– It has no impact on flavor or nutrition because there are no added flavors or preservatives used during the process.
The History of the Roast Beef French Dip Sandwich Au Jus
The History of the Roast Beef French Dip Sandwich Au Jus
keywords: french dip sandwich au jus, history of the roast beef french dip, beef dipping sauce
The Roast Beef French Dip Sandwich Au Jus is a sandwich made with sliced roast beef and served on a baguette. It is typically served with a side of beef dipping sauce, which can be either au jus or gravy.
The Roast Beef French Dip Sandwich Au Jus was invented in Los Angeles in 1918 by Philippe the Original, who was working at the time as a cook for the Los Angeles Pacific Electric Railway Company.
The sandwich has been featured on television programs like "Adam Richman's Best Sandwich in America" and "Man v. Food".
Origins of the French Dip
keywords: french dip sandwich au jus, history of the roast beef french dip
The French dip sandwich is a type of sandwich that originated in the early 1900s. It is a hot sandwich made with thinly sliced roast beef that is dipped in a flavorful au jus sauce. The dish was originally called the "French dip" because of its popularity with the French community in Los Angeles, who were introduced to it by Philippe Mathieu, the original owner of Philippe's restaurant.
The first mention of this dish was by Philippe Mathieu, who opened his restaurant in 1908. He sold them for ten cents each and they became popular among those who frequented his establishment.
Popularity and Variations on the French Dip
The French Dip is a sandwich enjoyed by many people around the world. The bread is dipped in the juice of a roast beef and the sandwich is eaten with a knife and fork.
The French Dip originated from the U.S. in 1918, when Philippe Mathieu, who was working as an assistant cook at Los Angeles' Ambassador Hotel, served it to hungry customers who had been waiting for hours to see President Woodrow Wilson speak at a luncheon. He first called it "the Poor Man's Sandwich."
The term "French dip" comes from its similarity to a traditional French dish called "paupiette de bœuf en croûte," which is made of thinly sliced beef cooked in boiling water with onions and butter, then dipped into clarified butter before being put on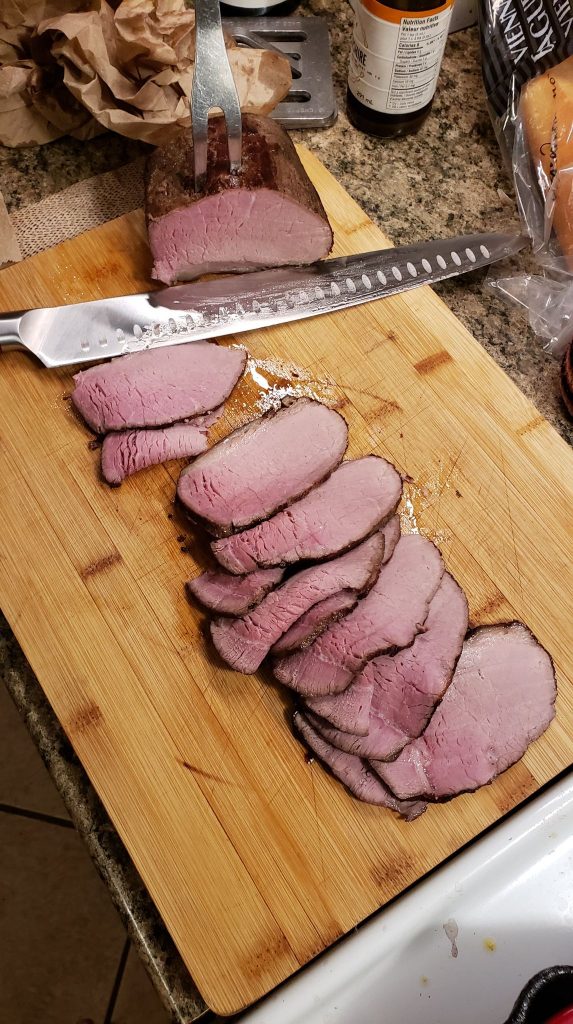 24 hour sous vide french dip sandwich. Roast Beef Au Jus
Ingredients
The Roast
2

lb

beef roast

I used top sirloin

1

clove

garlic

crushed

1

bay leaf

1/2

cup

red wine

2

cups

beef broth
The Rest
3

10 in

crusty roll

halved horizontally

1/3

cup

aioli

I used roasted garlic

2

large

red pepper

halved, seeds remove

1

large

spanish onion

sliced into 1/8" strips

1/4

cup

butter

olive oil

9

slices

gouda cheese

each slice split in half
Instructions
The Roast
Preheat your sous vide water to 140F

liberally season all sides with salt and pepper then sear all sides in a pan on medium-high heat- about 2-3 minutes per side

Place the roast in a ziplock bag, crush in a garlic clove and the add the bay leaf

Deglaze the pan with the red wine, then add the beef broth and simmer for a couple minutes

Allow the wine and broth to cool below 140F then add it to the bag with the roast.

Press out all the air and sous vide for 24 hours. cover your water as much as possible to minimize loss from condensation. Top up with hot water as needed.

When the roast is done, remove the roast form the bag and carve into thing slices.

Strain the jus from the bag to remove all solids and set aside for dipping
The Rest
Roast the peppers cut side down for 30 minutes at 450F.

When the peppers finish, wrap them in tinfoil and let them sit for 10 minutes to steam the skins. After 10 minutes pull the skins off, then slice into 1/4" strips

Add olive oil to a large pan on medium heat, once shimmering melt in the butter and add the onions

Saute for 30-40 minutes on low to medium low, covered. Stir the onions every 5-8 minutes until caramelized a deep brown
Making the sandwiches
Place the bread cut side up on a baking sheet. Spread the top piece with the aioli, pile the meat on the bottom liberally, then add peppers and onions then 6 gouda halves spread over the bottom pile evenly

Broil the sandwiches for 2-3 minutes or until the garlic side is toasted and the cheese is fully melted.

Place the lid on the sandwich, cut in half and serve with jus and a side of pepperoncinci
Nutrition
Calories:
1033
kcal
|
Carbohydrates:
19
g
|
Protein:
92
g
|
Fat:
61
g
|
Saturated Fat:
31
g
|
Polyunsaturated Fat:
2
g
|
Monounsaturated Fat:
15
g
|
Trans Fat:
1
g
|
Cholesterol:
324
mg
|
Sodium:
6251
mg
|
Potassium:
1406
mg
|
Fiber:
3
g
|
Sugar:
9
g
|
Vitamin A:
4407
IU
|
Vitamin C:
280
mg
|
Calcium:
1516
mg
|
Iron:
8
mg