Smashed Onion Burger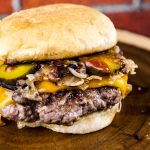 Print Recipe
Smashed Onion Burger
Ingredients
2 2/3

lb

ground beef, medium

I used 70/30

3-4

medium

pickle

sliced into medallions

4

medium

onion

sliced and sauteed

8

tsp

dijon mustard

8

burger bun

salt and pepper

5

tbsp

butter

unsalted

8

slices

cheddar cheese

ketchup
Instructions
Butter the inside of both slices of every bun. As you cook each patty, toast the buns at the same time.

season the meat liberally with salt and pepper, then roll into 8 loosely packed one third pound balls

Heat 1 tbsp butter in a cast iron pan on medium high. Once loudly sizzling place a ball into the pan and press it flat with a burger smasher. If you don't have a smasher, use a spatula and press down on the top with with something strong.

Once the burger is flat place enough sauteed onions on top to cover the patty and press them into the meat.

When the patty has browned all the way up the sides, flip it.

Dust the other side of the patty with salt then brush on 1 tsp of dijon mustard.

After 30 seconds add a slice of cheese and cover the pan with a lid for another 30-45 seconds until the cheese becomes gooey but not fully melted. The cheese should continue to melt after the burger leaves the pan so it will be perfect on the bun

top the burgers with pickles, more onions and a light amount of ketchup. You want the ketchup to accent the salty fattiness of the meat, onions and butter without completely taking over the whole burger's flavor profile.