One Bite Beef Samosas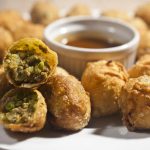 Print Recipe
One Bite Beef Samosas
One Bite Beef Samosas Recipe by Raymond Selzer
Ingredients
1

pizza dough

ball

2

potatoes

large

1

cup

peas

frozen

vegetable oil

for frying

1/2

tsp

cumin seeds

1

bay leaf

crushed

2

onion

large chopped fine

1

lb

ground beef

3

tbsps

garlic

chopped

1

tbsp

ginger

fresh , grated

salt

pepper

1

tsp

cumin

1

tsp

coriander

1

tsp

turmeric

1

tsp

chili

powder

1/2

tsp

cinnamon

ground

2

tbsps

cilantro

fresh , chopped

2

tbsps

jalapeno pepper

chopped fine
Instructions
Chop potatoes into 1/2" cubes, put in a pot with the peas, cover with water and boil til potatoes start to soften and peas thaw.

Drain potatoes and peas, add to large mixing bowl and mash coarsely. You want it to be very lumpy and quite tacky

Preheat your frying oil to 375F. If you don't have a deap fryer you'll need a pot about 3" deep of oil.

Heat olive oil in a large skillet. Add cumin seeds and bay leaf and saute til fragrant, about a minute

Add beef and onions, season liberally with salt and mix til beef breaks apart and begins to brown. 2 - 3 minutes.

Add garlic, ginger, pepper, cumin, coriander, turmeric, chilli powder and cinnamon. Mix well and let cook another couple minutes til meat is no longer red.

Add the meat to the potatoes and peas in the mixing bowl. Thoroughly mix together with a fork,

Mix in the cilantro and jalapeno, then put the bowl in the fridge to cool down.

On a floured surface roll out the pizza dough into a rectangle til dough is 1/8" thick. Use a pizza roller to cut the edges of the dough to have straight edges. Press the scrap dough pieces into a ball and set aside.

Fill a small bowl with warm water. Retrieve the filling from the fridge and make sure it's cool enough to handle.

Place a line of heaping tablespoons of filling along the short side of the dough there should be about 1" between each ball and 1/2" on the sides. Use the pizza roller to slice the dough about 1/2" from the line of balls, then make a slice between each ball, forming squares of dough. Wet 2 opposite sides of each square before folding.

Form Squares into balls by pulling the corners of each square of dough over its filling ball, pinch together any holes that form, then toss the ball between your hands to form into more of a sphere. See notes for link to animated gif of ball forming

Fry the balls for 3 - 3.5 minutes til golden brown. Don't put too many in the oil at a time, the pot shouldn't be crowded. Also you'll notice the balls tend to float, a large slotted spoon can be used to weight them down in the oil to ensure all sides fry evenly. Serve with chutney!
Notes
http://i.imgur.com/1mMy5Za.gif