Hearty Chicken Kreplach Soup
Today is a good day to dine!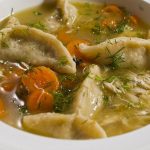 Print Recipe
Hearty Chicken Kreplach Soup
Today is a good day to dine!
Ingredients
3

egg

3

tbsps

corn oil

veg or

1 1/2

cups

flour

1

whole chicken

5

carrot

, peeled and chopped

5

celery

chopped stalks ,

handful

parsley

fresh

1/2

tbsp

peppercorns

fresh

1/2

tbsp

cloves

(optional)

2

bay leaf

1

bunch

dill

fresh

1

onion

, diced

salt and pepper

and
Instructions
Put the whole chicken in a large soup pot and cover with water, the chicken should be 2-3 inches under water. Lightly salt the water.

Bring to a boil and boil for 15 minutes.

Add carrots, celery, parsley, peppercorns, cloves and half the dill to the pot. Cover almost fully, leave space to vent steam.Reduce heat to medium high and simmer for 90 minutes

Heat oil in a large pan and sautee onions, set aside

After 90 minutes, use a pair of tongs to remove the chicken from the broth. Put it on a plate and set aside to cool. Remove the pot from the flame.

Taste the broth, and adjust seasoning as needed.

In a small mixing bowl whish together 3 eggs and 3 tbsp oil til frothy

Add flour to a medium mixing bowl, season liberally with salt, then create a well in the center and pour in the eggs.

Use a fork to mix together the eggs and flour, one the egg is soak up use your hands to kneed it all together into a dough. Set aside uncovered for 20 minutes.

Use a fork and your hands to pull apart and de-bone the chicken. Set aside the skin and 1 1/2 cups of chicken. Return the rest to the pot and turn to medium heat.

Add the 1 1/2 cups chicken and skin, 3 tbsp of chopped dill, salt and pepper and 3 tbsp of broth to a food processor. Pulse a couple times til combined and consistency looks like tuna salad.

On a well floured surface roll out the dough with a rolling pin. The dough should be about 1mm thick. Use a cookie cutter to cut out circles for the kreplach.

To make the dumplings, take a circle of dough, wet your index finger in a small bowl of water and run it along the rim of the circle. place 1 u2013 1/2 tsp of the chicken filling in the center.

Take 2 opposite sides of the circle and seal them together along 3/4 the length of the circle, bring back part up and pinch the three sides together in the center to form a T. Repeat til out of circles.

Add as many dumplings as you want right away back into the soup pot, make sure theyu2019re submerged. Cover and let simmer 4-5 more minutes.

Serve, garnished with fresh chopped dill.