Guinness Braised Short Rib with Carolina Mustard Sauce Sandwich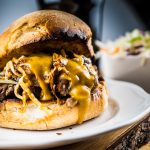 Print Recipe
Guinness Braised Short Rib with Carolina Mustard Sauce Sandwich
Ingredients
The Sandwiches
2

lb

beef short ribs

2

tsp

salt

2

tsp

pepper

1/4

cup

flour

1

tbsp

olive oil

2

tbsp

butter

1

tbsp

chopped garlic

1

tall boy

guinness

.5

cube

beef bouillon

1

cup

water

3

medium

onion

sliced

1

medium

onion

diced

4

slices

gruyere cheese

4

kaiser roll

1

tbsp

worcestershire sauce
The Sauce
1

cup

mustard

1/4

cup

honey

1/4

cup

brown sugar

1/2

cup

cider vinegar

1

tbsp

chipotle hot sauce

or minced chipotle in adobo sauce

2

tsp

worcestershire sauce
Instructions
The Sandwiches
Lay out the ribs and season both sides with salt and pepper

Toss the ribs in the flour til fully coated

Heat the butter and olive oil on medium in a large pot til melted

In batches, brown the ribs on all sides in the pot. 3-4 minutes per side. Set the ribs aside as they're browned.

When all ribs are browned and removed from the pot, add the chopped onion and garlic and saute for 3-4 minutes til the onions are soft.

Add the beer, water and beef bouillon to the pot and scrape the bottom with a spoon. Bring the liquid to a boil then reduce to medium low. Add the ribs to the broth, cover and braise for 2.5 hours

When there's an hour left for the ribs begin caramelizing the onions.

When the ribs are done remove them from the pot along with any bones that might fall out. Add the Worcestershire sauce to the pot, whisk to combine and simmer for another 30 minutes, whisking occasionally and adjusting seasoning to taste with pepper.

Remove all the bones from the meat then loosely chop and set aside.
The Mustard Sauce
When the ribs have about 30 minutes left combine all the sauce ingredients in a small sauce pot. Simmer on low for 15 minutes, whisking frequently then remove from heat and allow to cool.
The Sandwiches
Half the buns and butter. Toast in the oven under the broiler.

Toss the meat in some of the gravy. Enough to liberally coat, but not be dripping.

Portion the meat onto the bun bottoms, top with the cheese and return to the broiler til the cheese has fully melted 1-2 minutes.

Top the sandwiches with the caramelized onions and mustard sauce. Cut in half and server