General Tso Chicken on Cauliflower "Rice"
So I still have a ton of that chicken from No Frills in my freezer, the problem is my main stay of various asian dishes tend to be served on or with rice, but I can't have rice because of the slow carb so I've been trying to think of how to use cauliflower or lentils as a rice substitute . I thought, "maybe I can break or chop it really small, what's Google say"
Google (italics mine): "Just pulse it in your food processor, dummy"
Genious! So I did and quickly fried it in a little vegetable oil with salt. Worked out really well! Now to get around the whole 5kg of rice is $5 and 1 head of cauliflower is $4 problem.
With my rice problem solved I was free to get back to wok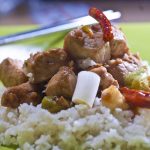 Print Recipe
General Tso Chicken on Cauliflower "Rice"
So I still have a ton of that chicken from No Frills in my freezer, the problem is my main stay of various asian dishes tend to be served on or with rice, but I can't have rice because of the slow carb so I've been trying to think of how to use cauliflower or lentils as a rice substitute . I thought, "maybe I can break or chop it really small, what's Google say" Google (italics mine): "Just pulse it in your food processor, dummy" Genious! So I did and quickly fried it in a little vegetable oil with salt. Worked out really well! Now to get around the whole 5kg of rice is $5 and 1 head of cauliflower is $4 problem. With my rice problem solved I was free to get back to wok
Ingredients
1

chicken breast

large cut into bite size chunk

1/2

cauliflower

head

vegetable oil

for frying

1 1/2

tbsps

vegetable oil

ginger

minced or zested root

2

tsps

chopped garlic

4 u2013 5

chili

red

2 u2013 4

green onion

- roughly chopped

2 1/2

tbsps

rice vinegar

3

tbsps

soy sauce

(pref: dark)

2

tsps

sauce

hoison

1/4

cup

water
Instructions
Roughly chop cauliflower so all pieces fit easily in the food processor

Pulse until it looks granular, almost like those styrofoam crumbs (it tastes way better, I swear)

stir fry on high in oil, seasoned with salt until warm- if it starts to sizzle itu2019s done

In a bow mix together the ginger, vinegar, soy sauce, hoison sauce and water

Add a good amount of oil to a wok and fry the chicken til no longer pink. Season with salt and pepper

Remove the chicken from the wok and add the garlic and peppers, sautee briefly, then add the sauce

bring sauce to a boil then simmer til it reduces a little.

Add chicken and cook for 5 minutes

Stir in scallions and allow to cook 1 more minute covered.