Chicken Stew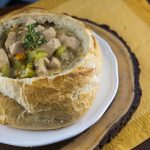 Print Recipe
Chicken Stew
Ingredients
3

chicken breast

cubed

2

medium

russet potato

cubed

2

medium

yellow onion

chopped

4

celery

chopped

1

liter

whole milk

2

cups

chicken broth

1

tbsp

old bay seasoning

2

tbsp

thyme

2

tbsp

butter

or margaraine

1

tbsp

flour

2

tbsp

chopped garlic

2

cups

frozen peas and carrots

1

tsp

pepper

3

medium

crusty bread loaves

(optional) hollowed to make bread bowls
Instructions
heat oil in a large pot on medium-high. Add chicken and pepper and stir to combine. Sear til no longer pink then remove from pot with a slotted spoon to keep the juices. 5-8 minutes

Add the onions, garlic, old bay, thyme. Stir to combine then saute til onions are soft and mixture is fragrant.

Melt in the butter then stir in the flour. Once fully combined add the broth and milk and bring to a roiling boil on high heat.

Add potatoes and frozen veggies then reduce heat to medium-low. Simmer covered for 20 minutes. stirring and tasting occasionally

Uncover, add chicken and simmer uncovered for 20 minutes, stirring occasionally

add celery and simmer another 10 minutes, stirring occasionally. Tasting and adjusting seasoning with salt and pepper.

If you'd prefer a thicker and / or bolder flavour continue to simmer uncovered after this, tasting frequently (every 5 minutes or so)

Serve in bread bowls... or don't. I'm not your supervisor.