Cajun Bourbon Rib Eye with Red Beans and Rice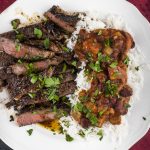 Print Recipe
Cajun Bourbon Rib-Eye with Red Beans and Rice
Ingredients
The steak and marinade
1/2

cup

soy sauce

1/3

cup

olive oil

1/4

cup

brown sugar

1/4

cup

bourbon

2

tbsp

dijon mustard

whole grain

2

tsp

cajun seasoning

2

tsp

chopped garlic

1

tsp

thyme

2

1lb

rib eye steak

3

tbsp

butter

parsley

fresh chopped for garnish
1

540ml can

kidney beans

drained

2

tsp

granulated garlic

1

tsp

worcestershire sauce

1/2

tsp

hot sauce

1/2

lb

smoked sausage

chopped (preferrably andouille, but kolbasa works too)

1

medium

onion

chopped

2

stalks

celery

chopped

3

tsp

chopped garlic

1

cup

tomato sauce

(or 5.5 oz tomato paste mixed with 4oz water)

1/4

cup

parsley

fresh chopped

2

cups

cooked rice

4

stalks

okra

chopped

1/3

cup

white wine

lemon juice works too.

2

tsp

cajun seasoning
Instructions
Steaks and Sauce
Whisk together all the marinade ingredients in a mixing bowl. Set aside 1/3 cup of the marinade. Place the steaks in a ziplock bag, add the marinade, press the air out of the bag, seal and massage til steaks are coated in the marinade. Refrigerate 2 hours.

Remove the steaks from the marinade, pat dry and cook to desired done-ness.

While the steaks cook, add the 1/3 cup marinade to a sauce pan and bring to a simmer. Melt in the butter, remove from the heat and whisk thoroughly to combine, lower heat to low and cover.
Red Beans
In a medium sauce pan stir together the tomato sauce, worchestershire sauce, hot sauce and granulated garlic. Bring to a boil on high then reduce to a simmer on medium. Add the beans and cook uncovered for 10 minutes

Add some vegetable oil to a skillet and heat on high til crackling. Add the sausage and fry til dark brown, stirring constantly. 3-5 minutes

Remove the sausage from the pan and add the onions. Saute til dark brown, about 2-3 minutes.

Add the okra, garlic, seasoning and celery and continue stirring another 2 minutes.

Add the wine and scrape the bottom of the pan. Continue stirring another 2-4 minutes til liquid is all but gone.

Stir all the vegetables into the red bean pot, bring to a boil and reduce a simmer and continue cooking another 10 minutes.