Roast Beef Dinner With Yorkshire Pudding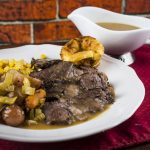 Print Recipe
Roast Beef Dinner With Yorkshire Pudding
Ingredients
The Roast
1

lb

red baby potatoes

halved

1

cup

baby carrots

3-4

lbs

boneless beef chuck roast

1/4

cup

dijon mustard

2

tsp

dried rosemary

1

tsp

garlic salt

1/2

tsp

dried thyme

1/2

tsp

pepper

2

cups

beef broth

1

medium

onion

chopped

3

stalks

celery

sliced

2

tbsp

chopped garlic

2

tbsp

butter

3

tbsp

flour

2-3

tbsp

worcestershire sauce

1-2

cans

peaches and cream corn
Yorkshire Pudding
4

large

egg

1 1/2

cups

whole milk

1

tsp

coarse ground salt

1 1/4

cups

all purpose flour

4

tbsp

vegetable oil
Instructions
The Roast
In a small mixing bowl mix together the mustard, pepper, thyme, rosemary, garlic salt. Rub the meat with the mustard mix

Heat some vegetable oil in a skillet on high til sizzling. Sear all sides of the roast 30-45 seconds per side.

Place the vegetables and chopped garlic in a slow cooker. Add the roast once seared and pour over the beef broth. Cook on high for 4 hours to an internal temperate of around 145F

Use a pair of tongs to remove the roast from the cooker. Use a slotted spoon to remove and set aside the vegetables.

Melt the butter in a large pot, whisk in the flour to form a roux. Strain the roast juices from the slow cooker through a sieve into the pot. Return the vegetables and roast to the slow cooker and cover to rest.

Add worchestershire sauce and pepper to the gravy, bring to a simmer and whisk til the flour dissolves and the gravy thickens. Reduce heat to low and cover.
The Yorkshire pudding
Whisk together the flour, eggs, milk and salt until a smooth batter is formed. Refrigerate the batter for 30 minutes.

Heat the oven to 145F.

Add 1 tsp of oil to each spot in 2 6 cup muffin tins. Use a brush to brush the sides of each cup

Put the tins in the oven for 10 minutes until hot. Remove from the oven.

Fill each cup with a little less than 1/4 cup of Batter. Return the pans to the oven's top shelf and bake for 18 minutes til dark golden brown. DO NOT OPEN THE OVEN DOOR TO CHECK OR THE PUDDINGS MAY COLLAPSE!