Mahi Mahi Burger with Zesty Potato Salad
tartar sauce recipe here http://www.cucumbertown.com/tilapia-fish-sticks-with-herbes-recipe-dish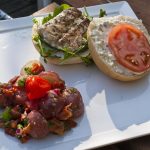 Print Recipe
Mahi Mahi Burger with Zesty Potato Salad
tartar sauce recipe here http://www.cucumbertown.com/tilapia-fish-sticks-with-herbes-recipe-dish
Ingredients
1

mahi mahi

steak

1

tomato

slice

1 half

bun

kaiser , cut in

dill

salt and pepper

,

lemon juice

1/4

cup

pepper

chopped roast

1/4

cup

banana pepper

chopped

1/2

cup

green onion

, chopped

1/4

cup

red onion

, chopped

4

tbsps

dijon mustard

2

tbsps

red wine vinegar

1/4

cup

olive oil

tartar sauce burger

for the

arugula

chopped
Instructions
Cut the each potato in half and put in a pot, cover with water.

Salt the water and bring to a boil, boil for 15 minutes. Blanch when done

in a medium size bowl mixed together onions and peppers

in another medium bowl whisk together dijon, vinegar, olive oil, salt and pepper. Taste and add lemon juice as needed.

Toss the peppers and onions with the potatoes, then add dressing and toss some more.

Season the non skin side of the mahi mahi steak with salt, pepper, dill and lemon juice.

Place the steak skin side up in a pan heated at medium high with olive oil. Season the skin side with salt, pepper, dill and lemon juice

Cook the steak 2-3 minutes, flip and cook another 2-3 minutes

Cut the kaiser bun in half, put a bed of arugula on the bottom half, then the steak. Coat the top half of the bun with tartar sauce, add the tomato slice.