Macaroni and Oka cheese with deep fried tofu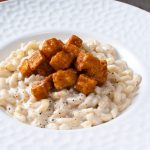 Print Recipe
Macaroni and Oka cheese with deep fried tofu
 Macaroni and Oka cheese with deep fried tofu
Ingredients
For The Mac n Cheese
2

cups

milk

2%

2

macaroni

, uncooked

1/4

cup

butter

1/4

cup

flour

2

cups

cheese

shredded oka

salt

pepper
For The Tofu
1/2

firm tofu

block extra

1/2

cup

flour

1

tsp

paprika

smokey

1

tsp

cumin

1

tsp

garlic

powder

1/2

tsp

chili

powder

1/2

tsp

oregano

2

tbsps

bbq sauce
Instructions
Preheat frying oil to 350F.

Place the flour and spices in a tupperware container, seal and shake to combine.

Separate tofu from excess flour, then add the tofu to the oil and deep fry at 350F for about 8-10 minutes.

When tofu is done, toss in a large bowl with bbq until evenly coated.

Drain tofu and cut into 1/2" cubes, add the cubes to the flour, seal again and shake to fully coat

Cook the macaroni to desired doneness, drain and set aside.

Heat the milk in a small pot on medium-low, stirring occasionally to prevent skin forming.

In a large pot melt the butter on low then whisk in flour a little at a time. Continue to whisking for another 2-3 minutes.

Turn off the heat on the pot, slowly add the milk while continuously whisking.

Add cheese half a handful at a time, sprinkling all around to separate cheese shreds, continue to whisk vigorously the entire time. Only add more cheese when previous handful has fully melted.

Stir in the macaroni noodles and adjust seasoning with desired amounts of salt and pepper.