Havarti Stuffed Burgers with Lemon and Garlic Zucchini Noodles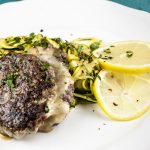 Print Recipe
Havarti Stuff Burgers with Lemon and Garlic Zucchini Noodles
Ingredients
The Burgers
550-600

g

ground beef

5

tsp

chopped garlic

split into 2 bowls

1/2

tsp

beef bouillon

crumbled

1/2

cup

parsley

fresh chopped

1

tbsp

steak spice

4

slices

havarti cheese

2

tbsp

butter

or margarine

pepper
The Noodles
4

medium

zucchini

spiralized

1

tbsp

hot sauce

your choice

salt

olive oil

1

tbsp

lemon juice

red pepper flakes

(optional)
Instructions
Squeeze the zucchini noodles in a ball of cheese cloth to press out some of the moisture.

In a large pan heat olive oil, then add noodles and season liberally with salt. The salt will help to draw out even more moisture from the zucchini so your noodles wont get soggy

Saute the noodles on medium high until they are fully limp- 5-8 minutes.

While the noodles saute, mix together all the burger ingredients and half the garlic, but not the cheese. Split the meat into 8 equal balls and press them flat into patties the same size as your cheese slices. Make 4 burgers, each with a slice of cheese sandwiched between 2 patties.

Remove the noodles from the pan to a colander to further drain.

Melt the butter in the pan on medium high, add the burgers and cook 5 minutes per side. When the burgers are done, remove them from the pan with a slotted spatula, leaving the grease.

Turn the pan to high heat until the grease is sizzling well, add the hot sauce, rest of the garlic, Italian seasoning and lemon juice. Use a flat edge spatula to scrape the bottom of the pan and mix the sauce. Return the noodles to the pan, reduce heat to medium and toss to fully coat. Serve with the burger, optionally garnished with more parsley and red pepper flakes.