Cheesy Salsa Chicken and Rice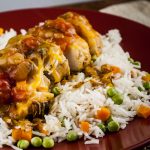 Print Recipe
Cheesy Salsa Chicken and Rice
Ingredients
3

large

chicken breast

boneless, skinless

1

cup

rice

not minute rice. Something that will take at least 10 mins to cook. My go to is basmati

1

cup

frozen vegetables

1

cube

chicken bouillon

3

tbsp

rub

your favourite meat rub

3

cups

cheddar cheese

shredded

3

cups

chunky salsa

oil

for frying
Instructions
Bring 3 1/2 cups of water to boil in a large pot, then add the bouillon cube, vegetables and rice. Cook to package directions, drain and set aside. (Ideally your rice of choice takes at least 10 minutes to cook so the vegetables cook too)

Toss the chicken in your rub of choice. I use Cool Runnings Caribbean seasoning

Turn on your broiler

Fry the chicken to your desired doneness, making sure to sear the breasts evenly on all sides.

When the chicken breasts are cooked and rested slice them thickly, but keep their general shape. Place them on a baking pan with their slices together in the chicken breast shape, but slightly spread apart. Coat the chicken breasts with a cup each of cheddar cheese. Broil the breasts til the cheese is fully melted 1-3 minutes.

Serve the chicken breasts over the rice and vegetables, topped with the salsa.