Cheesy Bacon Broccoli Bake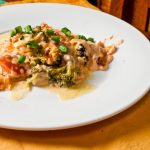 Print Recipe
Cheesy Bacon Broccoli Bake
Ingredients
4

heads

broccoli

6

bacon

slices of

1

yellow onion

large , sliced thin

pinch

sugar

of

t

pepper

and sa;

2

tbsps

butter

1 10

cup

cream

%

1/2

cup

water

1

tsp

dijon mustard

1/2

cup

cheddar cheese

old , shredded

2

tbsps

parmesan

grated

2

green onion

chopped for garnish

1

tbsp

chopped garlic
Instructions
preheat the oven to 350F

Chop the broccoli florets off the heads.

Steam the broccoli florets for about 5-8 minutes til tender

Bake the bacon in the oven for about 15 minutes. Remove from the oven and turn it up to 400F

Carmelize the onions in a large sauce pan with the sugar, about 20 minutes.

Once the onions are brown, add the garlic and cook another 2 minutes, then remove from the pan.

Melt the butter in the pan, whisk in the flour to create a roux. Add the cream, water and dijon and whisk to fully combine. Bring the mixture to a boil, then reduce to low and simmer for 2 minutes. Whisk in 3/4 of the cheese a little at a time.

Place the broccoli, bacon and onions in a baking dish, cover with the cheese sauce and then the remaining 1/4 of the cheese. Bake at 400F for 25 minutes.