Ben Franklins aka Tabouleh and Rezmi-kebob Pitas
So I was re watching Twisted World of Marge and when this part came up I caught "tabouleh", but couldn't quite catch the other thing. A quick trip to SNPP and then to Google proved it was a thing I could make. So here we are!
Helen: So, we'd be selling foreign…
Hostess: Specialty foods. Here, try a Ben Franklin.
Helen: [takes a bite] Mmm, that is good. What's in it?
Chef: [poking his head out of a window, looking of Indian origin]
Tabbouleh and rezmi-kabob.
Hostess: [trying to cover-up] Uh, th-that's our chef… Christopher.
Chef: [mutters, and closes the window, cursing in Hindi]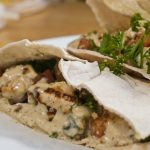 Print Recipe
Ben Franklins aka Tabouleh and Rezmi-kebob Pitas
So I was re watching Twisted World of Marge and when this part came up I caught "tabouleh", but couldn't quite catch the other thing. A quick trip to SNPP and then to Google proved it was a thing I could make. So here we are! Helen: So, we'd be selling foreign... Hostess: Specialty foods. Here, try
Ingredients
1/2

tahini

cip

3

cloves

garlic

1/2

tsp

kosher salt

2

tbsps

olive oil

1/4

cup

lemon juice

1

teaspoon

parsley

1/2

red onion

finely diced

5

oz

parsley

fresh

1

cucumber

field , diced

2

tomatoes

roma , diced

800

g

chicken breast

boneless skinless

1

tbsp

ginger

zested root

2

onions

large , chopped

1/2

cup

yogurt

fresh , plain (I used greek)

1/2

cup

almonds

1

lemon

Juice of

salt pepper

,

olive oil

1 - 2

tbsps

garlic sauce

of

pita bread
Instructions
Put tahini, garlic, salt, oil, lemon juice and parsley in food processor and process into sauce, adjust olive oil to thin, adjust tahini to thicken

Prepare Tabouleh bulgur wheat kit according to instructions

Toss together parsley, tomatoes, onions and bulgur, cucumber and dressing

Soak the almonds in hot water for at least 10 minutes, then remove peels by pinching each nut between your thumb and index finger (itu2019s tedious as fuck)

Put everything but the chicken and yogurt into a food processor, process, adding olive oil slowly until a paste is formed

Put the chicken in a large bowl, coat with yogurt and paste and mix thoroughly with hands until chicken is completely coated.

Either leave the chicken to marinate for 24 hours in the fridge, or skewer them up now.

Grill chicken til done

Stuff pitas with tabouleh and chicken and drizzle on garlic sauce.